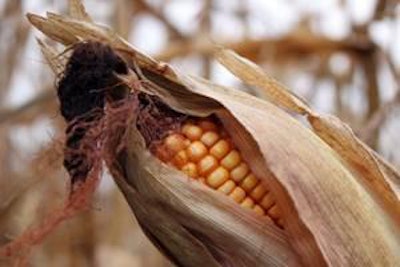 U.S. corn production is forecast at 12.5 billion bushels, down 3% from the August forecast but up fractionally from 2010, according to the U.S. Department of Agriculture's latest report.
Based on conditions as of Sept. 1, yields are expected to average 148.1 bushels per acre, down 4.9 bushels from the Aug. 1 forecast and down 4.7 bushels from 2010. If these numbers are realized, they will result in the country's third-largest production total on record but the lowest average yield since 2005.
Soybean production is forecast at 3.09 billion bushels, up 1% from August but down 7% from 2010 numbers. Based on Sept. 1 conditions, yields are expected to average 41.8 bushels per acre, up 0.4 bushel from last month but down 1.7 bushels from 2010. Compared with August, yield forecasts are higher in the Central Great Plains and along much of the Atlantic Coast. Yield forecasts are below August numbers across the Southern Great Plains and portions of the Southeast as hot, dry conditions persisted during the month. Area for harvest in the United States is forecast at 73.8 million acres, unchanged from August but down 4% from 2010.