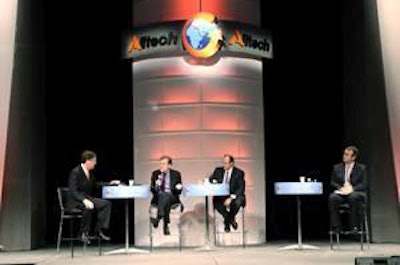 Experts from the field of new media, economics and food company Nestlé discussed how agribusiness should respond to commoditization and innovation for a growing world population at the 2011 "Great Debate," held during the Alltech 27th Annual International Animal Health and Nutrition Symposium.
The panelists commented to an audience of 2,100 delegates from 72 countries on topics ranging from adopting new media technologies and building new connections with consumers to utilizing the power of the World Wide Web to talk about food's ability to connect people to food sources. "Today social media provides a tremendous opportunity for the food industry to build relationships with consumers in a way that no other industry can … through farm-to-fork traceability," said Tom Standage, business editor of The Economist and author of A History of the World in Six Glasses and An Edible History of Humanity "Consumers have an interest in where their food comes from."
Ben Self, with Blue State Digital, highlighted the importance of each stakeholder in the food chain, from the producer to the consumer to the retailer, in telling the story through new media technologies thereby making it more interesting, memorable and relevant. Hans Jöhr, corporate head of agriculture at Nestlé and director of the Sustainable Agriculture Alliance, addressed how the industry and all the stakeholders in it have an opportunity to create a sustainable agricultural platform. "The real game changer is to understand that we are working in a finite world and that we really need to take care of our assets and how we utilize them so that we can produce nutritious food for everybody," said Jöhr.
Modern agriculture has many stories to tell but the challenge is how to effectively communicate these stories, said Alltech Vice President Aidan Connolly. "There is a world of opportunities available through new media technologies, which will allow each and every stakeholder in the food and feed chain to communicate messages quickly that connect with people's emotions," said Connolly. "This presents a real game changer as we feed a growing population on finite resources."