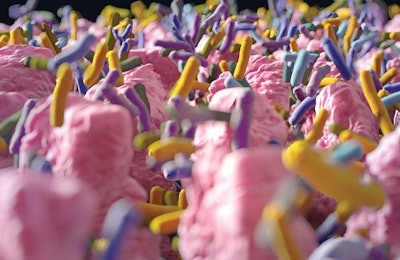 By better understanding the relationship between the microbiome and its hosts processes, Ascus Biosciences has created a new feed additives category, endomicrobials, which comprise novel, beneficial microbes that live symbiotically within selected species to enhance productivity, efficiency and well-being.
While, traditionally, industry searched outside the animal for microbes that might show benefits, Ascus has been looking within, fingerprinting the specific microbes naturally residing within an animal's gastrointestinal system, and identifying how the microbes function and interact to influence health and performance.
A proprietary approach quantifies microbial loads, identifies active micro-organisms, selects candidate strains, picks the most efficacious and then protects those microbes from the external environment to create a an endomicrobial feed supplement.
Starting with dairy cows, Ascus curated the world's largest dairy rumen microbe set to identify more than 50,000 unique microbial strains from more than 4,500 dairy cow rumen samples. Analysis of these samples allowed identification of a core set of common microbial strains distinguishing high-performing dairy cows from their lower-performing peers. Researchers then analyzed the relationships between these microbes and how they affect dairy cow functions and health.
According to Jimmy Owens, chief operations officer at Ascus, endomicrobial ecology allows these products to support animals with solutions tailored to their natural biology. He adds that Ascus is due to launch a product for the poultry sector in 2020.