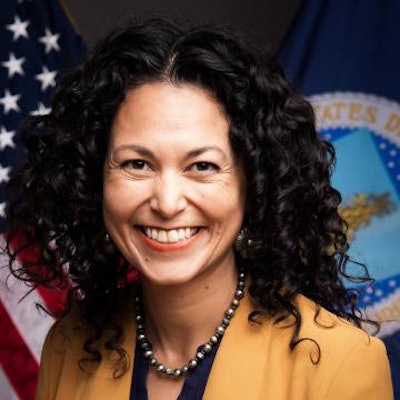 Photo courtesy of USDA
The Senate voted 84-8 to confirm Xochitl Torres Small as deputy secretary of the U.S. Department of Agriculture (USDA) on July 11.
Since October 2021, Torres Small has served as under secretary for rural development at USDA. Effective July 14, Rural development COO Roger Glendenning will serve as acting under secretary.
Prior to joining USDA, Torres Small was a U.S. representative for New Mexico's second congressional district. In Congress, she served as a member of the House Agriculture committee, the House Armed Services committee and as chairwoman of the Oversight, Management and Accountability subcommittee of the House Homeland Security committee.
"As the granddaughter of migrant farm workers, Xochitl experienced firsthand the challenges that many producers and rural communities face day in and day out," said Agriculture Secretary Tom Vilsack. "The hard work and determination she witnessed informs her commitment to public service and her respect for those we serve. Under her leadership, our rural development team has made record progress working to drive down energy costs, improve access to high-speed internet, expand processing capacity to help America's livestock producers attain fairer prices for their work, and provide affordable housing options for rural residents."
As deputy secretary, Torres Small will be responsible for strategic planning for the USDA that operates 29 agencies and offices and employs about 100,000 people who largely work outside Washington, D.C.
National Grain and Feed Association (NGFA) president and CEO Mike Seyfert agrees Torres Small is uniquely qualified to serve as deputy secretary of agriculture.
"She has demonstrated skilled expertise in her leadership of USDA's rural development mission area and a deep commitment to public service throughout her career," said Seyfert. "We look forward to working with her in her new role."
Chuck Conner, president of the National Council of Farmer Cooperatives (NCFC), also noted she is prepared well for the role.
"As NCFC noted when she was nominated, her grounding in the broad range of issues she handled as under secretary for rural development — along with her experience earlier in her career serving on the House Agriculture Committee — prepares her well for this new position," said Conner.
John Bode, president and CEO of the Corn Refiners Association (CRA), echoed Conner's sentiment.
"Her proven track record, dedication to food and farm policy, focus on rural prosperity, and dedication to advancing diversity will continue to propel the agriculture industry forward," said Bode. "We appreciate USDA's commitment to advancing rural communities and the confirmation of Deputy Secretary Torres Small further exemplifies that commitment and understanding."