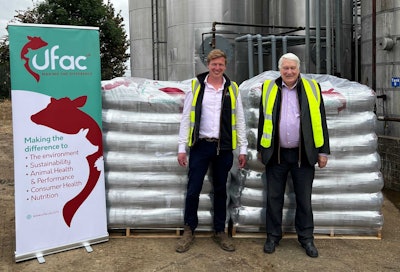 Courtesy UFAC-UK
Animal supplement manufacturer and supplier UFAC-UK has completed a major upgrade to its manufacturing facility in Newmarket, Suffolk, England, enhancing production efficiencies and reducing its carbon footprint through the use of intelligent control systems.
With production coordinated with the dedicated U.K. mill site in Woolfox, Rutland, the latest stage of UFAC-UK's mill development program has seen a significant investment in a new, bespoke manufacturing management software system and advanced liquid holding facilities to further increase capacity.
Supporting a dynamic operating environment, the improvements align with UFAC-UK's own commitment to responsible production and supports the sustainability commitments of its customers and stakeholders.
Completing an 18-month program of innovation and development across the facility, the latest updates will help meet the growing demand for UFAC-UK's energy, protein and omega-3 nutritional solutions, as well as providing increased capacity for bespoke formulations and new product development.
"The main focus of all our upgrades has been based around sustainability and efficiency, covering everything from the installation of the new storage tanks and IT system, right down to our new recycled polymer bags and reduced timber pallets on our packaging and distribution channels," said Richard Jones, UFAC-UK commercial manager, who has been overseeing the upgrades.
"The new IT system has had a significant improvement on the flexibility and efficiency of operation, regulating when machines are required to be in operation and therefore reducing overall operation time when lines are not required for specific runs," he said.
These developments are all underpinned by ongoing product advancement, building on more than 40 years of innovation in the development, manufacture and supply of nutritional solutions to the animal feed industry.
Robert Jones, UFAC-UK managing director, said: "As a company, we are constantly looking at opportunities to drive sustainability, productivity and efficiencies both within our own operation, but also on behalf of our partners and customers."
Exporting 40% of everything produced at the Woolfox site into Europe and across global markets, UFAC-UK operates in more than 25 countries worldwide.
"With the upgrades to our U.K. production facility, we are perfectly positioned to meet growing U.K. and international demand, but also further invest in the research and product development that has been the cornerstone of the business success," Robert Jones said. "All of this is achieved while we are also improving efficiencies, sustainability and environmental credentials."