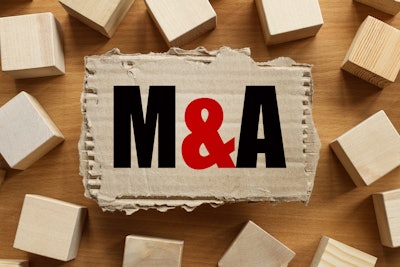 svetlana hadayeva | Bigstock.com
Olmix Group, a global specialist of natural solutions for agriculture, has acquired Yes Sinergy, a Brazilian biotech company specialized in natural additives for animal nutrition and welfare, effective July 11.
With the acquisition of Yes Sinergy, Olmix Group is pursuing its international development, positioning itself as a major supplier of biosourced solutions for agriculture. The group now generates revenues of more than EUR200 million (US$219.9 million), including nearly €150 million in animal nutrition, health and welfare.
The consolidation of the two companies is based on their complementary strengths, both geographical and technological, as well as their shared ambition of combining economic performance with the transition to more sustainable farming models. The operation builds on the companies' shared values focused on a scientific approach to knowledge and the essential role of innovation based on biosourced materials: seaweed for Olmix and sugarcane yeast for Yes Sinergy.
Founded in 2008, Yes Sinergy draws on more than 15 years of R&D aimed at adding value to byproducts of the sugarcane industry. As a result of all this work carried out in close cooperation with Brazilian universities and world-class researchers, the group is now recognized as a specialist in the selection and production of high-value derivatives of natural extracts.
Thanks to this unique expertise, Yes Sinergy develops innovative solutions for preventing the adverse effects of mycotoxins, improving digestive comfort, preventing contamination by pathogens and stimulating the immune responses of livestock and domestic animals while reducing the use of antibiotics.
Ranked among the leaders of the South American biosourced additives market, Yes Sinergy generates revenues of more than €40 million. The company has 300 employees spread across two industrial plants and among its sales and R&D teams. Yes Sinergy is headquartered in Campinas near Sao Paulo and operates two cutting-edge manufacturing plants in Bora and Lucelia, which are both located in the state of Sao Paulo, the world's main sugarcane production region.
Significant shared growth opportunities
The combination of Olmix and Yes Sinergy marks a new milestone in the development of Olmix's Animal Care Business Unit. Through this acquisition, Olmix Group reaffirms its international ambitions and positions itself as a leader of biosourced solutions for animal nutrition, health and welfare.
The acquisition will boost Yes Sinergy's sales, technical, and research and development resources while enabling the company to pursue its growth on the European and Asian markets. At the same time, Olmix's integration of Yes Sinergy will accelerate its development in Latin America, one of the world's most dynamic agricultural markets, penetrate the pet care market and complement its range of natural solutions for livestock.
Robert Clapham, Olmix Group CEO, said: "The acquisition of biotech company Yes Sinergy is fully in line with the Animal Care Business Unit's growth plans. I'm convinced that under the leadership of Mickael Rouault, who recently arrived at the head of this business, the two teams' combined expertise and skills will stimulate innovation and the growth of our biosourced solutions. The Group now has a global presence spanning Europe, Asia and Latin America, and the Animal Care Business Unit's revenues are spread evenly across these three areas."