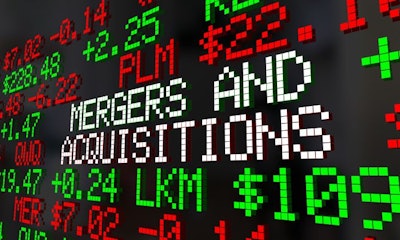 iqoncept | BIGSTOCK.com
On June 13, Bunge and Viterra entered into an agreement to merge the two companies to create a $34 billion agribusiness to rival ADM and Cargill.
According to reports, Bunge and Viterra are valued at about $17 billion each. Bunge shareholders, however, will own about 70% of the combined company, because Bunge will pay for a significant portion of the deal with cash.
As part of the $18 billion deal, which was unanimously approved by both companies' board of directors, Viterra shareholders will get about 65.6 million shares of Bunge stock, carrying a value of about $6.2 billion, and about $2 billion in cash. Bunge will also assume $9.8 billion of Viterra's debt, according to a joint statement.
The merger is expected to close in mid-2024, subject to customary closing conditions, including receipt of regulatory approvals and approval by Bunge shareholders.
Leadership after merger
Following the close of the transaction, the combined company will be led by Greg Heckman, Bunge's CEO, and John Neppl, Bunge's CFO.
Viterra CEO David Mattiske will join the Bunge executive leadership team in the role of co-chief operating officer.
The combined company will operate as Bunge with operational headquarters in St. Louis, Missouri.
Viterra's current headquarters in Rotterdam will continue to be an important commercial location in the future of the combined company, said the joint statement. Viterra has been owned by Switzerland-based commodity trader Glencore PLC since 2012. The company acquired Gavilon in October 2022.
"The combination of Bunge and Viterra significantly accelerates Bunge's strategy, building on our fundamental purpose to connect farmers to consumers to deliver essential food, feed and fuel to the world," said Heckman, who became CEO of Bunge in 2019.
"Our highly complementary asset footprints will create a network that connects the world's largest production regions to areas of fastest growing consumption, enhancing the geographical balance and adaptability of our global value chains and benefitting farmers and end-customers."
Heckman added the diversified global mix of earnings across processing, handling and merchandising, and value-added products will increase the resiliency of its cash flow generation.
"We have great respect for the team at Viterra, which shares our commitment to excellence, and believe this combination will offer great opportunities for employees of both companies," Heckman continued. "Together, we will be positioned to increase our operational efficiency while innovating to address the pressing needs of food security, efficiency for end-customers, market access for farmers, and sustainable food, feed and renewable fuel production."
Merger to help meet demands of "complex markets"
According to the joint statement, the merger of Bunge and Viterra will create a global agribusiness company well positioned to meet the demands of increasingly complex markets and better serve farmers and end-customers.
"Viterra and Bunge are two leading agriculture businesses," said Mattiske. "In combining our highly complementary origination, processing and distribution networks, we are better positioned to meet the increasing demand for the food, feed and fuel products we offer."
With an enhanced global network, the combined company's increased diversification across geographies, seasonal cycles and crops will increase optionality in managing risk and increase resiliency, said Mattiske.
"Together, we will play a leading role in the future of the agriculture industry, developing fully traceable, sustainable supply chains and moving towards carbon-neutral operations, while creating a strong growth platform for our combined business," he added. "This further enables us to offer innovative solutions and open additional pathways for our customers."
The combined companies are expected to generate $250 million of annual gross pre-tax operational synergies within three years of completion.
Acquiring Viterra brings Bunge's revenue, which was $67.2 billion in 2022, more in line with that of ADM, which registered sales of nearly $102 billion last year.