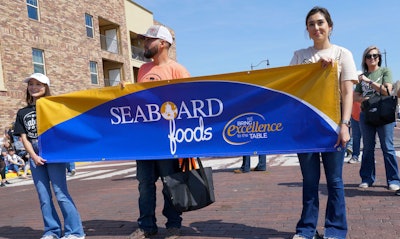 Seaboard Foods | Facebook
Seaboard Foods has offered a settlement in one class-action lawsuit in which Seaboard has been accused of conspiring with other pork producers to drive up the price of pork products, but the company said it will not settle any lawsuits that are similar in nature.
One June 12, Seaboard entered into a settlement agreement with the direct purchaser plaintiff (DPP) class, in which the company would pay close to $10 million. This settlement agreement does not include reimbursement of litigation expenses or attorneys' fees.
However, this settlement agreement does not cover the claims of other plaintiff groups or potential plaintiff groups, including:
Standalone direct action plaintiffs who have the opportunity to opt out of the settlement with the DPP class
Other direct purchasers that may elect to opt out of the settlement and file their won actions against Seaboard
The end user consumer indirect purchaser plaintiff class
The commercial and industrial indirect purchaser class
In a Form 10-Q, which is accessible through the Seaboard Corporation investor relations webpage, the company said it is done settling.
"Seaboard believes that it has meritorious defenses to the claims alleged in these matters and intends to vigorously defend any matters not resolved by the above settlement," the company stated. "It is impossible at this stage either to determine the probability of a favorable or unfavorable outcome resulting from these suits, or to reasonably estimate the amount of potential loss or range of potential loss, if any, resulting from the suits. However, the outcome of litigation is inherently unpredictable and subject to significant uncertainties, and if unfavorable, could result in a material liability."
Other defendants in the lawsuit include Agri Stats, Clemens Food Group, Hormel Foods, Indiana Packers Corp., JBS USA, Smithfield Foods, Triumph Foods and Tyson Foods.
The settlement agreement is subject to court approval. The suit is being handled in the U.S. District Court of Minnesota.