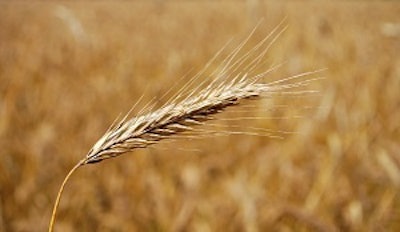 From WATTAgNet:
Russia has announced plans to limit grain exports in an effort to stem a spike in prices set off by the collapse of the ruble. The government said the export limits were imposed in an effort for the country to ensure its own food security amid the currency crisis.
The announcement drove up global grain prices, but analysts believe ample supply should keep prices from spiking. Wheat prices in Europe climbed after the announcement.
"We had a good harvest but at the same time, due to the volatility of the ruble, prices are very advantageous and exports have risen considerably," Prime Minister Dmitry Medvedev said at a government meeting. "We need to have minimum reserves that assure Russia's food security. In this context I think it is time to reflect on administrative restrictions on exports."
Deputy Prime Minister Arkady Dvorkovich said Russia has exported 21 million tonnes of grain since July from a potential annual total of 28 million tonnes. Russia harvested 104 million tonnes this year.
Last week, Russian authorities denied that they were considering an export ban, but there were indications that the government may have been trying to slow exports. Russian media is reporting that the veterinary and agricultural service has been issuing a small percentage of the export certificates it normally does, without explanation.
Russia to impose customs controls to limit cereal exports
MOSCOW – The Russian government said it was bringing in customs barriers on Monday to limit the export of cereals in the hope of reducing domestic prices sent soaring by the collapse of the ruble. The fall of the ruble has made grain exports far more profitable for Russian farmers, leading to a …