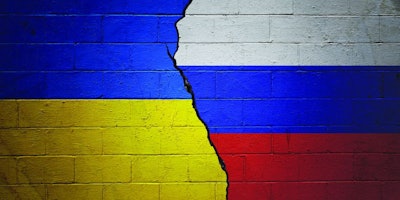 Ongoing effects of Russia's invasion of Ukraine brings higher feed costs to Eastern European countries
One year ago, Russian troops crossed the Ukrainian border, triggering the bloodiest European military conflict since World War II, prompting Western countries to impose the harshest sweeping sanctions the global economy has ever seen.
The future remains uncertain for all the countries involved, and yet so far, feed businesses have managed to cope with all the challenges surprisingly well.
Russia's chasing technological sovereignty
Since 2014, Russia has developed agriculture under the banner of bolstering the nation's food security. At that time, the country imported nearly half of all food, primarily from Western countries, so the government set a target to narrow the gap between domestic production and consumption of poultry, pork, beef and dairy products.
To beat the declared goal, the authorities gradually expanded the volume of state support of agriculture from RUB197 billion (US$3 billion) in 2013 to RUB355 billion (US$4.9 billion) in 2022.
As a result, Russian feed production jumped from 23 million tons in 2014 to 32.8 million tons in 2022, driven mainly by growth in the poultry and pig industries, where production figures are well above those envisaged in the food security doctrine.
The Russian authorities explained that the country needs to be self-sufficient in food in case something happens disrupting supplies from the West. This "something" happened in February 2022.
When the Ukrainian crisis broke loose, however, it exposed that Russia had not done its homework well enough, as its dependence on imports still remained high, though it was not so obvious.
Russia produces most food domestically but still purchases 95% of feed additives and veterinary drugs in other countries, while almost all feed mills launched in the country during the past decade run on Western equipment and need a constant flow of spare parts to maintain normal operation.
The first several months of the Ukraine war were marked by a mass exodus of Western business from Russia. As a result, the Russian Agricultural Ministry set its sights on achieving technological sovereignty of agriculture, said Maxim Uvaidov, deputy agricultural minister.
"Russia needs to have all the critical technologies available in order, if necessary, to quickly establish its own production of any product, from animal feed to advanced feed additives and veterinary drugs," he said.
Under the new goal, the Russian government plans to further boost the volume of state aid for Russian agriculture – in 2023, it should exceed RUB500 billion (US$8 billion), the ministry estimated.
The ministry has rolled out a program called "Development of the production of feed and feed additives for animals," under which new production of enzymes, probiotics, feed antibiotics and micronutrients should be launched in Russia in 2025, so by 2030, Russia could largely get off the import needle, and become self sufficient on feed additives.
Sanctions kill the economy of scale
In 2022, the Russian feed industry experienced unprecedented turbulence, as supplies of some feed additives, equipment and technologies were disrupted by what Russian business describes as voluntary sanctions. This term is usually used in Russia, referring to a situation when a foreign company decides to pull out from the country on its own accord, not being forced by the sanction regime.
Exits of some companies appeared to be rather painful. Evonik's withdrawal from Russia cost its market 30,000 tons of methionine supplies per year, Sergey Mikhnyuk, executive director of the Russian National Feed Union, estimated. The Russian feed industry's reliance on imports ranges between 90% and 95%. On feed vitamins, it is close to 100%, Mikhnyuk said, adding that to maintain sustainable operations, the problem must be urgently solved.
Russian businesses fear that one day all supplies from Western countries will come to a halt, commented a spokesperson for a Russian feed company. Feed additives are now purchased in China in large quantities, but when it comes to technologies, it is highly unlikely that the country could actually replace supplies from Western countries.
The calls to build new products from scratch expressed by some officials seem unrealistic. The key problem is that in the market conditions allocating investments in research and development is too risky, as Russian global isolation means there will be many obstacles, but primarily a lack of economy of scale, he added.
The problem of replacing methionine import is that it would be senseless to build a plant focused exclusively on the Russian market, Mikhnuyk said, adding that foreign investors could help. In his opinion, Chinese and South Korean companies have not turned their backs on the Russian market, so they have the brightest prospects of localizing feed additives production in Russia.
However, it seems most private investors in Russia took a wait-and-see position, not rushing to replace imported technologies and raw materials. Over the past year, no big announcement was made in the Russian feed industry.
Belarus feed giant is on shaky legs
In neighboring Belarus, the feed industry also feels the sting of Western sanctions. In particular, Belarussian National Biotechnological Corp. (BNBC) experiences delays in commissioning new production capacities.
BNBC is a giant feed cluster designed to produce 1 million tons of feed, as well as 40,000 tons of L-lysine monochloride 98.5%, 37,000 tons of L-lysine sulfate 70%, 8,000 tons of threonine 98.5%, 1,600 tons of tryptophan 98.5%, and 22,000 tons of wheat gluten.
In 2019, Ilya Snopkov, BNBC's strategic development and planning director, said the company's primary target was to conquer from 5% to 10% of the feed amino acids market in the European Union, which in Belarus is considered a premium market. The company planned to export feed products with a total value of $500 million per year.
In 2020, Belarus was hit with the first European sanctions after an outbreak of violence on the streets after the presidential elections. Even after that, talks with Western customers reportedly took place.
Last year, however, export was limited to US$1.5 to US$2 million per quarter, with almost all products landing in Russia. Supplies to Europe and Ukraine are barred by sanctions.
There are also problems with export to China, which was originally planned through Baltic seaports. Currently, the only viable option for exporting Belarussian feed products is via Russian seaports, but the local press reported that, due to the lack of containers and withdrawal of some market players, logistics costs on this route skyrocketed last year, and made delivery costs senseless.
The Ukrainian feed industry is alive and kicking
Whatever problems the Russian and Belarussian feed industries face, it is not comparable to the challenges of the Ukrainian business.
Ukrainian agriculture lost roughly US$40 billion due to hostilities, first deputy Agriculture Taras Vysotsky estimated.
Research by the Kyiv School of Economy showed that the country lost up to 30% of livestock in some segments. Some of the largest poultry farms, like Chernobaevskaya in Kherson Oblast, were destroyed during the fights, while the biggest companies, like APK-Invest, saw their operations in chaos, as some of their production assets are on the territories controlled by Russian forces.
However, government officials estimated that roughly 80% of agricultural companies resumed their operations. Some feed mills work at a rather low-capacity utilization ratio and barely can make ends meet, but still manage to keep business afloat.
In 2022, Ukrainian livestock producers enjoyed low feed prices owing to the oversupply crisis in the grain market. On the other hand, the price of feed additives soared because the cost of their delivery to Ukraine skyrocketed.
Maxim Gopka, an analyst of the Ukrainian Agricultural Club, estimated that, in previous years, imported feed additives came to the country primarily through seaports in containers, followed by overland transportation to warehouses. While Ukrainian ports are closed, Chinese amino acid suppliers have to stop at the ports of Romania, Poland or Turkey in order to switch to land logistics and this, in turn, takes more time and financial costs.
There is no clarity on when and how this conflict will end. It will take years for the Ukrainian feed industry to recover if the fight stops tomorrow. However, recent developments suggest both sides are preparing for a long standoff, which the Institute for the Study of War described as a "war of attrition" that could last during all of 2023 and even beyond.