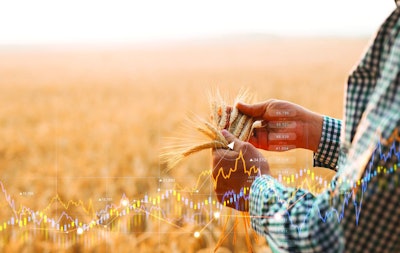 Annual survey of feed industry stakeholders identifies the top issues poised to influence 2023 global production
2023 is unlikely to provide much reprieve from the slew of macro trends the global animal feed industry has grappled with in recent years, except now several new challenges have emerged.
Slowing national economies in top markets point to the likelihood of a global recession. The International Monetary Fund (IMF) stated in its October 2022 World Economic Outlook Report that the global economy will grow 3.2% by the end of the year, but forecasts only a 2.7% expansion in 2023. The report went on to say that one-third of the world's economies are technically already in a recession, defining this distinction by contractions spanning two consecutive quarters.
Russian's war on Ukraine and high inflation are driving increasing energy, input and living costs, which have stunted recovery, at a time when many markets and industries continue to struggle to stabilize from the pandemic's aftereffects. Frankly, these are turbulent and uncertain times — and these conditions will definitely impact the growth and profitability of animal agriculture and feed production.
In Feed Strategy's annual outlook survey, animal feed industry leaders identify the issues manufacturers and nutritionists should have on their radar when planning for the next 12 months.
Inflation pressures, high input costs
Global inflation is forecast to rise to 8.8% by the end of 2022, IMF reports, but may decrease to 6.5% in 2023 after it peaks.
"High inflation has impacted the feed industry's bottom line in 2022," says David Fairfield, National Grain and Feed Association's (NGFA) senior vice president – feed. "Managing the cost of inputs and generating adequate revenue will be a high priority moving into 2023."
In addition, cost-of-living price pressures have forced consumers to adjust their diets to contend with rising food costs, a move that may prove to affect the types and amount of animal proteins consumed. Here, it would also be remiss not to acknowledge the threat of a global food crisis in emerging and developing markets, stemming from the Russian's interference with Black Sea grain exports.
"The consumer price index for all food stood 11.4% higher year over year — and that number is expected to continue increasing between 2.5% to 3.5% in 2023," says Constance Cullman, president and CEO, American Feed Industry Association (AFIA). "Our members recently heard from economists who said that rising inflation, along with geopolitical tension in Europe and arid weather unripe for crop production, will compel farmers and ranchers to reduce their animal numbers because of unavailability and high cost of feed, which could lead to global protein reductions."
Animal feed producers will also continue to be challenged by soaring raw ingredient prices, as summer heatwaves, historic droughts in Europe and other climate events in key regions have affected crop yields.
"The European Commission downgraded the EU's corn harvest forecast to 55.5 million tons, with some analysts warning it could be the lowest volume since 2007," reports Iani Chihaia, animal nutrition consultant working with the U.S. Soybean Export Council (USSEC) – Europe. "In this context, total EU maize imports in 2022-23 are estimated to reach 21 million tons, the highest level in four years. This shortage might translate into higher prices for corn in Europe."
Meanwhile, the U.S. Department of Agriculture (USDA) decreased its 2022 corn and soybean crop projections.
As farmers everywhere are experiencing economic pressure, inefficient operations face a high risk of closing, notes Olivier Clech, the joint CEO of French botanical supplier Nor-Feed.
Supply chain, logistical troubles likely
Supply chain bottlenecks and product shortages have been a top concern in the years post-COVID; however, the most recent round of strained logistics and transportation headaches are only tangentially related to the pandemic's fallout. Now, volatile geopolitics on multiple fronts, an energy crisis, sustained workforce shortages and labor disputes have created new obstacles.
"The logistics in the global supply chain have become very expensive and much less reliable," explains Clech. "And now with high raw material and energy costs — especially in Europe — it is surging."
ADM Animal Nutrition's president Ismael Roig agrees: "Supply chains have been disrupted across the globe for a wide variety of commodities — and we'll continue to feel the impact well into 2023."
Ongoing workforce shortages have created delays across all facets of the value chain, from sourcing and processing to delivery, Roig points out.
These conditions also contribute to the feed industry's transportation challenges.
"The lack of predictability for rail and truck transportation has caused issues for both shipping and receiving products," says Fairfield. "Maintaining just-in-time inventories often is not an option anymore due to logistical issues, causing increased costs of inventory and the need for more inventory space."
This autumn, the U.S. narrowly avoided a rail strike that would have crippled commerce, as 40% of long-haul cargo is transported by rail, and would cost US$2 billion per day. The initial agreement with the labor unions is temporary and a deal still must be ratified by some of the labor unions, with final votes being cast in late November.
"If ratification doesn't occur, the impact of a strike would be devastating," Fairfield concludes.
Meanwhile, the trucking industry's need to hire, on average, 110,000 new drivers annually over the next decade to keep pace with economic growth and attrition is another looming concern, Cullman notes.
According to Alexander Döring, secretary general of the European Feed Manufacturers' Federation (FEFAC), one of the main EU feed industry issues is the struggle to maintain a continuous flow of feed deliveries at a competitive price, while ensuring poultry and livestock "have sufficient quantities of safe, nutritionally balanced feed in a war economy context."
Rising freight costs and geopolitical strife will also stress logistics and raw material availability next year.
To combat raw material availability and supply challenges, AFIA, for example, is urging the U.S. government to revisit negotiations with key trading partners, "to help diversify ingredient sourcing and expand export markets to secure supplies and stabilize the customer base," Cullman reports.
Energy crisis in Europe

Russia's retaliatory restriction of the amount of natural gas it supplies to Europe, which had relied on the country for 40% of its supply, sent energy costs skyrocketing in summer 2022. To address the looming energy crisis, EU leaders have proposed price caps and consumption limits, but right now, all fear what will happen this winter.
EU member states agreed to emergency measures, including cutting the demand for gas by 15%; filling gas-storage facilities to at least 80% capacity; and, to reduce gas-fired power generation, decreasing peak electricity demand by a minimum of 5%, the Associated Press reports.
"The latest increases in energy prices, especially natural gas and electricity, threaten the continuity of feed and animal protein production cycles and therefore the ability to continue delivering essential food staples to consumers and raw materials for the food processors," Chihaia says.
He fears EU oilseeds crushers, feed manufacturers and animal farming companies might be forced to shut down, laying off workers and making other serious cutbacks as they struggle to maintain operations.
"The dramatic increases in energy costs are forcing feed companies to pass price increases to farmers and consumers, with businesses warning of a persisting inflation rampage in 2023," Chihaia notes. "Surviving high energy prices during winter 2023 will be key for European feed and oilseed crushing companies."
Döring believes threats and uncertainty over energy restrictions and prices may also significantly affect the availability of co-products, noting that key EU suppliers have stopped drying co-products, such as sugar beet pulp and distiller's grains, diverting wet co-products to biomethanation.
Persistent poultry, livestock disease threats
African swine fever (ASF) and highly pathogenic avian influenza (HPAI) continue to test poultry and pig producers in many regions, while other countries work to prevent the spread and introduction of these deadly diseases to new parts of the world.
"Potential breakthroughs, such as vaccination, are still years away from practical implementation, so strict biosecurity measures all along the chain remains the most effective tool," says Döring. "Avian influenza is becoming more persistent, with a continuously growing area of Europe facing unprecedented numbers of infections transmitted from wild birds to farm-based flocks."
Recently, the USDA's Animal and Plant Health Inspection Service (APHIS) revealed that more than 46 million head of commercial U.S. poultry have been lost to the HPAI outbreak in 2022.
Sustainability, innovations drive future investments
Corporate responsibility and the collective effort to limit the environmental impact of feed and food production will continue to influence animal feed formulation, how ingredients are sourced and efficiencies in manufacturing.
"The EU legislative 'sustainability train' will keep running in 2023, despite the economic challenges that have put food and feed security on the political agenda," Döring says, noting that certain Green Deal measures are presented as "providing long-term food security."
All sources mentioned the emphasis on research and development in the area of alternative ingredient utilization and for feed additives that reduce emissions and allow nutritionists to do more with less.
Cullman calls for regulatory institutions to improve, modernize and accelerate the approval process that delivers safe, innovative products and novel feed ingredients to the market sooner, going on to share that she feels progress is being made on this front.
"We are also seeing other agencies, such as the USDA, take a heightened interest in being a catalyst for change, leveraging public-private partnerships that uncover barriers to entry for these climate solutions and incentivize and promote on-farm adoption," she says.
Ewenn Helary, CEO of NUQO Feed Additives, believes innovation is key to addressing some of the fundamental and emerging feed industry pain points.
"There has always been much attention paid to feed costs and feed efficacy, but this will be even more critical, with all recent events that are impacting our industry," says Helary. "Our industry will need to adapt to regulatory changes and consumers' expectations to implement even more sustainable solutions."
"It has been on the table for a long time, but we see in different geographies the necessity to not only invest for the future, but to deliver faster in this field," he says.
Reference available upon request.