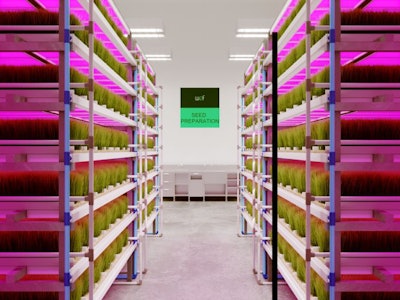 Systems that grow large amounts of fodder in small spaces in a controlled environment could be the key to addressing issues, including sustainability and supply chain disruptions.
What are the biggest challenges to modern-day livestock production? Whether it's feed cost and availability, land and water use, greenhouse gas emissions, freight costs or weather, vertical farming may help solve these challenges.
Vertical farming uses controlled indoor environments to grow large amounts of crops in stacked layers that take up a small footprint. Most often implemented to grow produce, such as leafy greens and herbs for human consumption, more companies have begun to grow fodder to feed production animals – primarily beef and dairy cattle, but also other animals such as sheep, goats, chickens, pigs, horses and rabbits.
One such company is South Dakota-based HydroGreen, which sprouts grains such as wheat, barley and rye into fresh forage at the tonnage that large-scale beef and dairy operations need.
"HydroGreen solves problems and creates business opportunities," said Danielle Davis, marketing manager at HydroGreen. "The problems solved are related to irrigation restrictions, land constraints and low forage years, quality feed access, inflation and rising and unpredictable input costs. The business opportunities created are related to the animal performance benefits we've identified for both dairy and beef operations. It's a comprehensive solution for producers, and for more resourceful food systems."
She said HydroGreen's forage is "so rich in enzymes it enables glucose production and more efficient fermentation and rumination – think of it like an ingredient for high-performance athletes."
For World of Farming (WoF), a vertical farming company based in Dubai, producing fodder that uses up to 90% less water and land than traditional farming is particularly important, as the company and its customers are located in the arid Middle East and North Africa region.
"Requiring very minimal consumption of water and land utilization, vertical farming is already emerging as the most viable way to ensure we continue feeding our growing population sustainably," said Walid Saad, CEO and co-founder of WoF. "This is especially true in places like the United Arab Emirates (UAE) and the wider GCC region where an arid climate has caused a high dependence on international imports."
The GCC, or Gulf Corporation Council, comprises Saudi Arabia, Kuwait, the United Arab Emirates, Qatar, Bahrain and Oman. Farmers in this region rely heavily on imported ingredients to feed their animals.
"In order to tackle food security and climate challenges that stem from importing fodder to arid regions such as the United Arab Emirates, WoF is targeting the top of the supply chain," Saad said. "As such, we're focused on feeding cattle, and in doing so, we will be reducing local farmers' reliance on international fodder import, while simultaneously enhancing the quality of meat being consumed in the local market."
Like WoF, Colorado-based FarmBox Foods grows barley fodder, but horizontally, with yields of 850 to 900 pounds of fodder per day from each seven-tray tower in the hydroponic fodder farm. Davis said HydroGreen's customers are producing thousands of pounds of forage per year – up to an equivalent of what 500 acres can produce – on less than an acre of land. One of HydroGreen's large systems can produce 7,500 pounds of dry matter per day – or approximately 34,000 pounds as fed per day, according to Davis.
"Barley fodder is on a seven-day grow cycle, which means you're both harvesting and seeding every day. The output really is astounding," said Chris Michlewicz, chief public relations officer, FarmBox Foods.
This output is why Michlewicz thinks vertical farming will become a larger part of the future of agriculture.
"It uses less water, less land, and you can place these portable farms in the locations where they're needed most. There are so many places in the world that are being devastated by climate shifts, and there's a lack of arable land in places that need the most help in combating hunger. Short growing seasons in certain parts of the world also impact the ability to grow enough food for local populations. Having the ability to grow food indoors and avoiding the unpredictability that comes with outdoor growing could become a critical lifeline as conditions continue to change," Michlewicz said.
Automation at the heart of growing, harvesting
Because these companies are essentially technology firms, automation plays a big role in how they operate their farms.
Michlewicz said FarmBox Foods uses a grow control system made by Agrowtek that allows it to program the temperature, humidity, watering schedule, lighting schedule, pH levels in the water and nutrient concentrations.
"We have a network of sensors attached to the digital control panel that allows us to monitor all climate parameters, and dosing pumps to add very specific levels of plant nutrients to the water used on our crops. This greatly reduces labor needs," he said.
Saad said WoF uses proprietary software technology that monitors and adjusts farming parameters.
"The vertical farm tracks these crops as they grow using AI imagery to determine health, rate of growth and to pre-determine any diseases or mold," he said. "By connecting to a dashboard online via desktop or mobile devices, farmers will be empowered and in control, with the ability to adjust everything from temperature to humidity to ensure optimal growth performance."
HydroGreen's automated equipment performs all growing functions including seeding, watering, lighting, harvesting and re-seeding, according to Davis.
"The harvesting process is automated, so with a push of a button, the forage moves through the twin rotor sizer to be cut and moved via a conveyor belt system out of the building," she said.
Michlewicz said FarmBox Foods' harvesting process is extremely simple.
"In the fodder farm, we include a cutting tool to chop the fodder into small, bite-sized pieces," he said.
Addressing sustainability, supply chain challenges
Vertical farming companies boast the sustainability features of their systems; in addition to using less water and land, they can reduce methane emissions, combat deforestation, use fewer fossil fuels and create less food waste – and even alleviate some supply chain disruptions.
"Instead of producing an output directly for human consumption, our approach serves to tackle a major problem which begins at the very top: to sustainably feed livestock with on-site production of fodder," Saad said. "If done correctly, it will have an immense impact on regional food security, as well as in cutting greenhouse gas emissions from conventional animal feed global production and transportation globally."
WoF's circular farming methodology, called The Cattleyst, utilizes cattle manure to reduce emissions.
"The patent-pending methodology is a closed loop system that reduces methane emissions to the atmosphere by utilizing cattle manure, while ensuring farm output is being used as input in the farming operation," he said.⁠
The countries in the Persian Gulf region import 80% to 90% of the food they consume, including livestock feed, Saad said.
"By enabling the local growth of fodder through vertical farming, the farmers will also have reduced labor for growth and harvest, less land utilization, less carbon footprint, more water preservation, and more (land) preservation. The benefits provided by vertical farming are essentially a game changer for tackling unsustainable supply chain practices in the animal feed industry," he said. "Our vertical farming methodology will also make the local farmer immune to the rising cost of fodder by controlling the feed and their farm with less labor-intensive activity, all while being able to control diseases and scale their output to sustain the amounts of fodder needed for consistency across the year."
Michlewicz said controlled-environment growing conditions provide consistency in supply, reducing the risks from uncontrollable factors such as weather and supply chain.
"Controlled-climate farming allows farmers and ranchers to grow food during the off-season and supplement crops during the growing season," he said. "The fodder farm in particular helps them avoid the impacts of persistent drought and gives them control over their feed supply instead of relying on a shaky supply chain or being subject to spikes in hay prices."
Because these farming systems are put in place where they are needed, Michlewicz said issues with transportation and logistics are nearly eliminated.
"Container farming in general enables people to grow near the consumer. This almost completely eliminates the supply chain and all of the headaches and costs that come with it," he said. "Hyperlocal growing eliminates the need for fossil fuels to transport goods across long distances."
Full-service solutions
HydroGreen was founded on the ideas that address the challenges farmers face today, Davis said.
"HydroGreen was invented by a rancher who was struggling to afford and reliably feed his herd during long drought cycle. The HydroGreen team's mission is to create technology to help farmers and ranchers to feed their herds consistently and responsibly for generations," she said.
Saad and Michlewicz said their companies provide full service to their customers throughout the entire process.
"Our customers are buying a 10-plus-year business relationship with us," Michlewicz said. "We don't just drop off a farm and say, 'good luck.' We provide in-depth training (both online and in person) and operational support to ensure the success of every farmer. Everything we learned during our research and development phase is passed along to our customers. They're not just buying equipment, but the knowledge we've gained. FarmBox Foods also assists with pre-construction/site prep and we deliver anywhere in the world, arranging trucks and cranes to deploy our farms where they're needed."
Saad explained a similar process for WoF's customers.
"We don't just supply farmers with equipment and technology, we provide an end-to-end solution for generating the most sustainably produced fodder for their livestock," he said. "At World of Farming, we're a completely integrated service provider. Once a farmer decides to work with us, we will deploy the operation with a 'no cost of ownership' and 'pay-as-you-go' subscription model. We design and build the vertical farm according to the demand and consumption needs of each farm, even as the farm grows – because our methodology is scalable. It's essentially a plug-and-play setup which we design, build and operate."