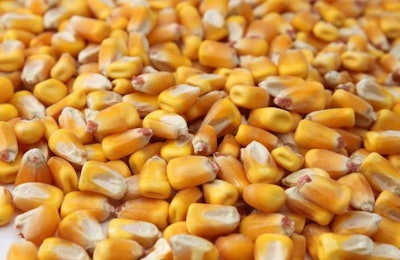 The government of the East African state is removing import duties on some key agricultural imports, including raw materials for feed.
Kenya's poultry and livestock farmers now have the prospect of cheaper feeds for their animals.
This week, a government representative announced that it is lifting the import duty on yellow corn, reports The Standard.
Aims of the move are to encourage increased production and improve the livelihoods of farmers. In recent times, high feed costs have held back the incomes and investment plans of these producers, according to Agriculture Cabinet Secretary Peter Munya.
At an event in Trans Nzoia county this week, he announced that the waiver on import duties will remain in place for 12 months. In order to prevent fraudulent entities from abusing the lift in restrictions, they will be restricted to yellow corn and for feed manufacturing.
Munya also urged more Kenyan farmers to grow crops suitable for animal feeds. Not only will this reduce future costs of animal feeds, it will also reduce the nation's dependency on imports. To help stimulate uptake, the official urged private investors to take up an offer to lease government land to grow more feed crops.
At the same event, The Standard reported, Munya announced the establishment of a new board to regulate the quality of key inputs, such as feeds and fertilizers.
Previous measures to reduce feed costs
This announcement from the Kenyan government comes after previous calls for measures to reduce spiraling feed costs for the country's farmers.
Three months ago, the feed manufacturers' body outlined a number of measures to alleviate shortages and the high cost of feed ingredients.
At the time, the Association of Kenya Feed Manufacturers (AKEFEMA) expressed particular concern over exports of home-grown raw materials. While Middle Eastern states were able to pay premium prices, this left Kenyan feed producers struggling with shortages.
It also called for an end to the country's ban on imports of genetically modified (GM) soybeans and yellow corn. Furthermore, AKEFEMA saw opportunities to use alternative proteins such as poultry meal and fishmeal in feeds when soybeans are in short supply.
Feed, poultry companies put under more pressure
All these factors put Kenya's feed sector under heavy pressure, and some companies were forced to close their businesses.
At the end of September, The Citizen of Tanzania reported that, within a period of just two months, 30 feed manufacturers in Kenya had ceased trading. The situation had recently been exacerbated as Zambia imposed a ban on the export of these materials. This southern African state had previously been one of the leading sources of feed ingredients for the Kenyan market.
As a result, shortages and price rises became even more extreme along the food supply chain.
Around that time, one farmer said that poultry production had become unsustainable as feed prices continued to spiral ever upwards. More than 300 of the previous 750 members of his cooperative had recently shut down their businesses, he said.