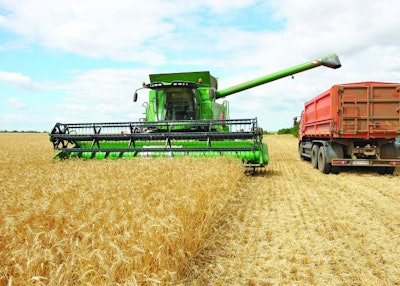 Organic crop production is surging, meaning an uptick in organic livestock production isn't too far behind
Russia is diligently trying to become the world's organic superpower, even though an average domestic consumer is unwilling to overpay for products claimed to be cleaner than traditional products.
The existence of organic standards in Russia must unravel the agricultural industry's hidden potential, Russian Prime Minister Dmitry Medvedev claimed in 2018, after signing an organic farming bill, which paved the way for the government to start working on detailed rules of the organic industry's operation.
Russia has plenty of agricultural land, which has not been spoiled by using poisonous agricultural chemicals, Medvedev said at the time. This land would be suitable for growing organic crops to produce organic meat, which was in high demand worldwide, he added.
In the next few years, with the help of the organic farming bill, Medvedev predicted that Russian agricultural producers would overtake a 10% to 25% share of the global organic food market.
The global organic food and beverages market in 2019 was approximately US$220 billion, research conducted by Facts & Factors showed. The market is expected to grow at a CAGR of 16% and is anticipated to reach around US$620 billion by 2026, the researchers forecasted.
Russia exported agricultural products for US$30.6 billion in 2020, compared with US$25.6 billion in the previous year. If Medvedev's forecast is destined even partly to come true, it could multiply the Russian agricultural export's value.
Export is the only way
A growing number of Russian producers have certified their products as organic, and even more are on the way, the Russian organic farming union estimated.
"Organic livestock is developing in Russia is not as fast as organic crop production," said Sergey Korshunov, chairman of the organic farmers union, admitting that there is no official statistical data indicating how much organic feed is produced in the country.
"In the Western countries, this [producing feed from organic grain] is a trend. Feed crops account for the main share of the Russian organic export, with the demand is strongly exceeding the supply," Korshunov said.
Organic milk, broiler meat and egg production are believed to be the most promising segments, according to Korshunov.
"In the Russian cities with a population above [one] million, some customers are ready to overpay for the organic dairy products," Korshunov said.
However, in the current economic conditions, the Russian organic food market remains tiny. In 2020, the Russian organic farmers union estimated that the production cost of organic food was 20% to 25% above the industry's average, while growing a broiler on organic feed would cost farmers 35% to 50% more.
On the other hand, the potential margins are also very attractive. In 2020, the average price of broiler carcasses in Moscow stood at RUB200 (US$2.78) per kg. In the case of organic broilers, it reached RUB800 per kg, the Russian Gazette, the Russian government's official publication, estimated. Still, organic broilers could be found only in a limited number of Moscow and St. Petersburg stores, and the reasons are quite obvious.
As much as 37% of Russian citizens have little money to spare on food, a research conducted by the Russian bank Otrkitie in 2021 showed. In Central Russia, this figure reached 47%, while in Siberia it was 43%. During the past few years, Russia has been suffering from poverty, with almost 14 million citizens having incomes described as extremely low.
Only 7% of Russians said they could buy what they needed in necessary quantities, Otrkitie reported.
Another research conducted by the Russian think tank SBS Consulting showed that only 1% of Russian citizens purchased organic products. However, the demand for organic food was projected to grow on average by 26% per year. Entering this segment, agricultural producers could count for a record-breaking margin of 300%, SBS Consulting estimated.
The main prospects of the Russian organic food export lie on the West in the European Union, the U.S., and other wealthy countries, local analysts said. Russia exports poultry to Asia, Africa, and the Commonwealth of Independent States (CIS) region, where organic standards are not driving consumer demand yet. However, Western countries already have well-developed organic industries.
The U.S. provides 43% of the world's organic food. It is followed by Germany with 11%, France with 9%, China with 8%, and Canada with 3%, SBS Consulting estimated. Only 1.4% of the world's arable land is used for organic farming, although in some particular countries, this figure reaches 10%, SBS Consulting said.
In Russia, 44% of agricultural land, or 97.2 million hectares, is not used at all, the Russian external trade academy estimated. This land is primarily located in remote territories with poorly developed infrastructure and those previously covered by permafrost, where production costs are high just as well as risks. The development of the organic industry could help Russian farmers developing these areas.
First projects are up and running
For many years, the organic industry in Russia has been hampered by the wide presence of counterfeit products, as any farmer or agricultural holding was free to label his product as organic, even though it was not so.
Things changed in 2020 when the Russian sanitary watchdog Rospotrebnadzor got the authority to control the compliance with organic standards on the domestic market. Several fines issued by the regulator pushed dozens of producers to change their labels urgently. On this background, some companies announced huge investments into organic projects.
In early 2020, Russia's biggest milk producer, EkoNiva, disclosed plans to launch the first Russian organic beef production. Sergey Lyakhov, general director of EkoNiva's Siberian branch, estimated that the company could sell organic beef by 30% to 35% above the average market price. Lyakhov added that it might take a couple of years to convert beef farms to organic standards.
In October 2019, EkoNiva launched organic milk production with the supplies limited to hypermarkets in Moscow and Kaluga oblast. The output in this segment was rather low, limited to 1,150 liters per day.
More importantly, EkoNiva disclosed plans to file for international certification, including under the European standards. If successful, the company could begin exporting organic beef at very attractive prices.
"International recognition is paramount for the Russian organic industry," commented a source on the Russian market who wished not to be named. "If limited with the size of the domestic market, it would not grow — no matter who says what. Its prospects lie on the global market, primarily in the European Union, but a complicated political situation and a lack of trust in the Russian state control system among European regulators are likely to become problems in the foreseeable future," the source added.