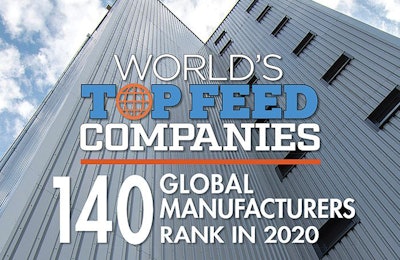 Annual report highlights global compound animal feed manufacturers producing volumes over 1 million metric tons in 2020
In 2020, 140 animal feed manufacturers worldwide reached or exceeded 1 million metric tons of compound feed production, according to WATT Global Media's Top Feed Companies database, the source of Feed Strategy's 2021 Top Feed Companies ranking report.
WATT Global Media's research team compiles exclusive feed industry insights, including the production volumes and other data points, to populate the database and generate the listing of the largest global feed producers.
To capture the most accurate information, Feed Strategy's annual Top Feed Companies analysis focuses on the previous calendar year's compound feed volumes.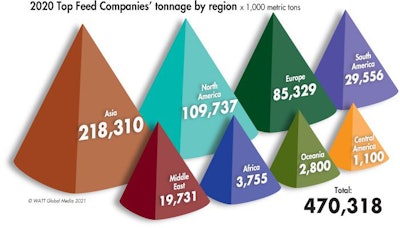 The 140 Top Feed Companies produced a total of more than 470 million metric tons of compound feed production. (Copyright WATT Global Media 2021)
Feed production leaders
The top 140 feed producing companies manufactured more than 470 million metric tons of compound feed in 2020. To put this into perspective, according to Alltech's 2021 Global Feed Survey, 2020's total global compound feed production volume exceeded 1.187 billion metric tons, meaning these companies represent 39.6% of the world's feed tonnage.
From a regional perspective, many of the firms featured in this year's listing are headquartered in Asia (52) and in Europe (33). Twenty-nine are in North America; 11 in South America; nine in the Middle East; three from Africa; two in Australia; and, making its debut this year, one in Central America.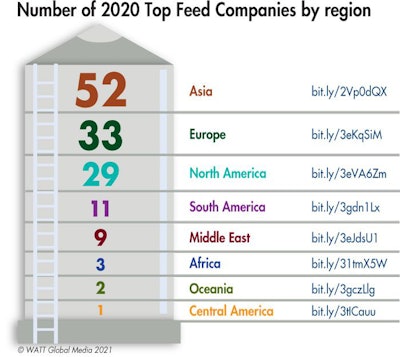 Most of the compound feed manufacturers reaching or exceeding volumes of 1 million metric tons are in Asia, Europe and North America. (Copyright WATT Global Media 2021)
2020 ranking highlights
The Top Feed Companies of 2020 report features 140 animal feed producing companies. This year's ranking grew by 11 manufacturers over 2019's number. Additions and major changes can be attributed to the discovery of new or updated information; however, others are influenced by market conditions, acquisitions, or circumstances unique to the company.
Keeping this in mind, here are several 2021 Top Feed Companies ranking highlights:
In last year's Top Feed Companies feature, we included tonnage data from more integrators and, with the help of a feed industry consultant, gained new insight into the Asian feed industry. This year, these efforts have also resulted in further expansion of the ranking. Ultimately, 16 new companies were added to the master listing in 2021, largely from the Americas (9). In addition, five companies that appeared in last year's Top Companies report were removed from the listing.
WATT Global Media's research team standardized how parent companies and their subsidiaries are displayed in the Top Feed Companies database.
For this reason, JBS S.A. and Pilgrim's Pride have been combined to reflect the company's full feed production tonnage in 2021. JBS USA, owned by JBS S.A., is a majority shareholder of Pilgrim's Pride, the second largest poultry company in the United States, with operations also in Mexico and in Europe. This shot JBS S.A. up to the No. 7 position from No. 41 in last year's report.
Meanwhile, several companies made notable jumps compared with their 2019 rankings. Based on new data, China's Muyuan Foodstuff jumped from No. 52 to No. 30; Anyou Biotechnology Group Co. assumed the No. 53 slot from No. 84; U.S. chicken integrator Sanderson Farms moved to No. 27 from No. 32; Ukrainian poultry producer MHP took No. 60, up from No. 78; and Colombia's Italcol moved from No. 120 last year to No. 77.
A handful of companies saw significant drops in their ranking: South Korea's NongHyup Feed Inc. from No. 18 to No. 51; Germany's AGRAVIS Raiffeisen dropped from No. 25 to No. 41; French feed producer Avril Group dipped from No. 34 to No. 49; China's Shandong Backbone Group moved from No. 41 to No. 61; and China's Hunan Jiuding Group from No. 76 to No. 93.
Several Asian companies saw a slight increase in production despite African swine fever (ASF) virus in the region, due to restocking efforts and increased demand for poultry.
Notable merger and acquisition activity in the past five years include ADM's acquisition of Neovia in 2019; Nutreco's acquisition of Hi-Pro Feeds (2017); Cargill's purchase of Southern States Co-op (2017) and Alltech's 2017 takeover of Ridley Inc., Masterfeeds and Coppens (2016).
Looking ahead to the 2022 edition
No doubt the impact of the COVID-19 pandemic shaped 2020 feed production. Many related factors, including commodity price volatility, supply chain disruptions and shifts in animal protein consumption, continue to impact the amount of feed produced and may stifle — or accelerate — mergers and acquisitions.
In addition, disease challenges and outbreaks spur uncertainty poultry and livestock production. In 2020, for example, the persistent threat of the ASF virus continues to challenge swine production in China and Southeast Asia; and poses an ongoing threat to the European pig herd. In addition, a resurgence of porcine reproductive and respiratory syndrome (PRRS) further stressed pig producers.
Despite the challenges of 2020, 16 companies grew their feed volumes and may be worth watching in the coming years. These operations charted volumes upward of 800,000 metric tons of compound feed production in 2019 and may be contenders for ranking on the Top Feed Companies list moving forward.
Next year, the Top Feed Companies report may look a lot different given the challenges animal protein producers have faced in 2021 — with high commodity costs, disease challenges, supply chain issues and a global economic recovery underway.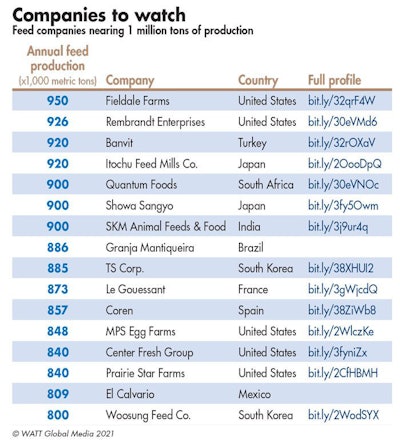 With volumes of more than 800,000 metric tons of production, 16 companies almost ranked on 2020's Top Feed Companies master list. (Copyright WATT Global Media 2021)
Editor's note: The World's Top Feed Companies report was drawn from WATT Global Media's Top Feed Companies database, compiled from research and a survey overseen by Bruce Plantz and Tara Loszach. Feed consultant Yu Yu also contributed to the project. Please direct comments or questions to topco@wattglobal.com.
To drill down deeper into the factors that shaped this listing, historical data and the company profiles of more than 200 feed producers worldwide, visit the Feed Strategy's full Top Feed Companies database: www.feedstrategy.com/worlds-leading-feed-producers/.