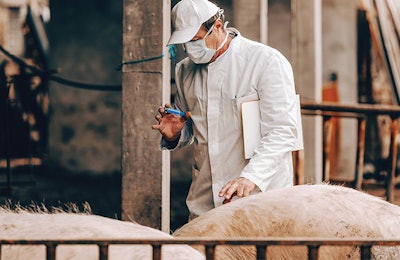 A leading research institute in Kenya has initiated trials to test the efficacy of the first candidate African swine fever vaccines.
Key to gaining control over African swine fever (ASF) is the development of an effective vaccine against the disease, according to Lucilla Steinaa of the International Livestock Research Institute (ILRI) of Nairobi.
Testing of 10 vaccine candidates has just begun, reports China-based news agency, Xinhua. Efficacy will be evaluated against the virus genotype circulating in central and eastern Africa.
At the end of last year, ILRI announced that it had used cutting-edge technology to accelerate the development of ASF vaccines. The technology — clustered regularly interspaced short palindromic repeats, CRISPR — was being applied to fast-track the development of live-attenuated ASF virus vaccine candidates. Using CRISPR, ILRI scientists had identified the vaccine candidates in a little over one year, while older techniques might have needed five years to reach the same point.
In 2018 and 2019, ASF was known to be present in 23 African countries, according to the World Organisation for Animal Health. Five states have registered new cases with the organization this year — Namibia, Nigeria, South Africa, Tanzania and Zambia.
Around one and a half years ago, ASF returned to Kenya.
Auctions, traders blamed for latest South African outbreak
This month, approximately 100 pigs were culled at a smallholder's farm in North West Province, South Africa, reports Food for Mzansi.
According to the South African Pork Producers' Association, this outbreak in Potchefstroom was linked to the activities of speculators, who obtained pigs from several sources.
Reflecting the seriousness of the threat, the Association is in the process of formulating an action plan to tackle ASF. While commercial farmers would like to see informal live pig trading banned, those with small herds are happy that they can trade their animals in this way.
To avoid the risks of disease transmission at their premises, some slaughterhouses in South Africa are opting to accept pigs only from registered premises.
According to this source, recent ASF outbreaks in the provinces of Mpumalanga, Gauteng, and Free State were linked to animals purchased from auctions or uncontrolled animal movements.
Further ASF outbreaks among Europe's domestic pigs
So far this year, 216 outbreaks have been confirmed among domestic pigs. This is according to the latest update of the Animal Disease Notification System from the European Commission (EC), as of February 21.
Of this total, 203 outbreaks have occurred in Romania, including an increase of 27 from the previous week. There were nine more outbreaks in Serbia, bringing this nation's total to 11 so far this year.
Ukraine has registered two outbreaks with the EC so far this year. The most recent was at the end of last month.
Restrictions for pig farmers set to ease in Germany
So far, no domestic pigs in Germany have been infected with ASF. However, movement restrictions in the regions with cases among wild boar have been in place for a long period. These have raised concerns about the welfare of affected pigs.
The federal agriculture ministry reports that these restrictions will be partially lifted from April 21.
After obtaining agreement from the European Commission, Minister Julia Klöckner said that the changes will benefit animal welfare and the owners of the pigs.
From April, the local authority in the federal state can consider the results of a veterinarian's herd examination carried out up to three months of any ASF outbreak in wild boar in the area. This will allow certain exemptions for pig movements in disease control zones.
European wild boar outbreaks pass 2,500
Over the past week, 434 new outbreaks of ASF have been recorded with the EC, bringing the total so far this year to 2,506.
Registering the most cases is Hungary with 789 outbreaks, including 156 new outbreaks registered since last week.
For the same period, Poland has added 134 outbreaks, bringing its total this year to 586. Also recording double-digit increases were Romania (now with 360 outbreaks in 2021), Germany (312), Slovakia (248) and Bulgaria (111).
ASF spreads to wild boar in new German district
In the eastern German state of Brandenburg, the first case of ASF has been confirmed in a wild boar in the district of Dahme-Spreewald. This brings the number of affected districts in this state to four. A total of 668 wild animals have tested positive for the virus, according to the agriculture ministry for the state of Brandenburg.
For the only other German state to have registered ASF cases in wild boar — Saxony — total cases are unchanged at 42, reports the state's agriculture ministry.
Germany's total now stands at 710 animals (all wild boar) since the first case in September 2020.
Further outbreaks in Polish wild boar
So far this year, Poland's chief veterinary office has reported 560 cases of ASF in wild boar.
This includes 83 outbreaks registered over the past week, which were confirmed in the period February 5-18. Outbreaks were located in seven provinces. In the east of the country, Lubusz continues to be the province worst affected with 348 outbreaks so far this year. Its total includes an additional 61 from last week.
In groups of up to 10 animals, 166 wild boar were involved in these latest Polish outbreaks.
View our continuing coverage of the global African swine fever situation.