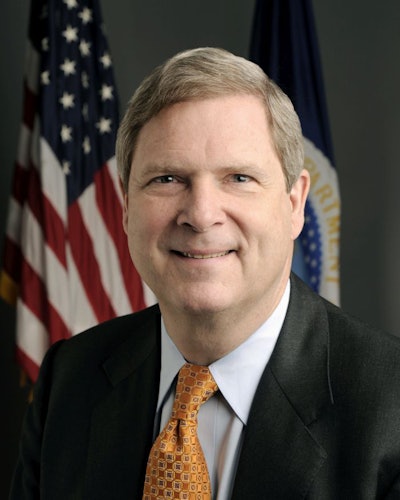 Returns to lead US Department of Agriculture for a second time
The U.S. Senate voted 92-7 on February 23 to confirm Tom Vilsack as secretary of agriculture in the Biden administration, the same position he held in the Obama White House.
Vilsack served eight years as Secretary of Agriculture during President Barack Obama's administration, was governor of Iowa for eight years and has served as a member of the Iowa Senate. After leaving the U.S. Department of Agriculture (USDA), Vilsack had been president and CEO of the U.S. Dairy Export Council (USDEC) since February 2017.
Thomas Gallagher, CEO of Dairy Management Inc., USDEC's parent organization, commended the confirmation of Vilsack to lead USDA.
"I want to congratulate Secretary Vilsack and thank him for the great work he has done for America's dairy farmers through his leadership at the U.S. Dairy Export Council," Gallagher said. "The Secretary has been a driving force in continuing to create viable global markets for dairy through USDEC, and he will continue to be a strong voice for agriculture in his role at USDA."
The American Farm Bureau Federation (AFBF) congratulated Vilsack on the confirmation vote, saying his strong track record of leadership and previous experience at USDA will serve rural America well.
"We have a lot of work to do as we overcome obstacles created by the COVID-19 pandemic," said AFBF President Zippy Duvall. "We must commit to resuming CARES Act programs and continue to build on advances made in trade. We must move forward on the successes made in climate-smart practices while seeking partnerships to ensure new environmental policies remain market-based and voluntary. We also recognize the importance of strengthening the farm bill and bringing broadband to every community in America.
"We stand ready to work with Secretary Vilsack and USDA on issues that benefit this nation's farmers and ranchers – his success means rural America's success."
American Feed Industry Association (AFIA) President and CEO Constance Cullman also congratulated Vilsack and said AFIA will support his "diplomatic efforts."
"With the constant threat of animal disease knocking at our borders, we will continue our calls for the USDA to have the resources it needs to not only improve agricultural research and mitigate disease risks, but to create a best-in-class preparedness and response network," Cullman said. "We hope that the agency will continue its efforts to harmonize the regulatory framework across the agencies responsible for bringing novel human and animal nutrition-improving technologies to market. Modernizing our rural infrastructure will allow the agriculture industry to fully participate in a more connected world and we stand ready to work with the agency to turn this priority into a reality.
"As our international counterparts and organizations convene to develop strategies to reduce food insecurity and environmental impact, we will support Secretary Vilsack in his diplomatic efforts to ensure science-based standards and regulations remain a top priority. Our members are committed to providing expertise and counsel to the USDA delegates charged with ensuring agriculture has a firm footing in 21st century trade agreements."