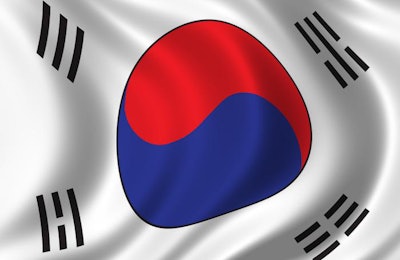 After a period of absence, African swine fever (ASF) has been detected again in domestic pigs in South Korea and China.
Since the start of this month, two outbreaks of African swine fever (ASF) have been confirmed on farms in the South Korean province of Gangwon.
On October 8, 12 cases were suspected among a herd of 721 pigs at a farm in Hwacheon county, according to the country's agriculture ministry. Its official report to the World Organisation for Animal Health (OIE) records that 503 pigs on neighboring premises were culled in order to prevent further spread of the virus.
On the following day, presence of the ASF virus was confirmed at a second farm. This was one of the premises affected by the cull after the initial outbreak, according to the Yonhap news agency. There, two cases were detected out of a herd of 1,020 pigs. Along with 1,833 animals from two neighboring farms, the rest of the herd has been culled.
With more than 4,000 pigs already impacted by these two outbreaks through mortality or culling, South Korea is evidently taking all possible measures to prevent further spread of ASF in its domestic pigs.
Ministry officials imposed an immediate 48-hour ban on the transportation of all livestock facilities in Gangwon and neighboring Gyeonggi, reported Yonhap.
It was exactly one year ago — in October 2019 — that the last South Korean pigs were previously found to be infected with ASF. While cases continued to be detected among the wild boar populations of the northern provinces of Gangwon and Gyeonggi that border North Korea, the nation's domestic pigs had been free of the disease. In recent weeks, preparations were even made to restart production at previously affected farms. Over a two-month period last year, ASF hit 14 South Korean farms, and more than 400,000 pigs were culled to bring the infection under control.
ASF situation in South Korea's wild boar population
ASF infections in wild boar are suspected as the source of the latest outbreaks in domestic pigs. One week ago, Yonhap put the number of wild boar identified with the disease over the past year at 756. Almost all were discovered in the provinces of Gangwon and Gyeonggi that border North Korea.
Over the past week, South Korea's agriculture ministry has registered with the OIE 33 new cases of ASF in wild boar. Identified between August 25 and October 6, all these animals were found in the provinces of Gangwon (in the counties of Hwacheon, Inje, Yanggu, and Chuncheon) and Gyeonggi (Yeoncheon and Pocheon counties).
Chinese checkpoint reveals ASF-infected pigs
Also following a period without any cases of ASF, China has recorded new infections in pigs.
According to the agriculture ministry's latest report to the OIE, a group of 70 pigs tested at a highway checkpoint were positive for the virus. The test station was in Youyang county, which is in Chonqing city municipality in south-western China. Two of the pigs died, and 14 showed symptoms.
All the animals were culled, reported China's ministry of agriculture and rural affairs. Cleaning and disinfection of the vehicle, road and checkpoint have been carried out.
In July, a previous outbreak was discovered in Chonqing, also as the result of a highway check on a vehicle transporting pigs.
Further cases in Russia's Far East
In the Far Eastern federal district, ASF virus was detected among two more backyard herds this month.
According to the OIE report, the infection was found among four pigs in Khabarovsk oblast, and in a herd of 21 animals in Primorsky krai. Previous cases have occurred in these regions of the federal district since August 2019.
South Africa registers 23rd ASF outbreak
The latest report to the OIE by the agriculture department in South Africa outlines an outbreak of ASF at a farm in July. Three cases were discovered in a herd of 100 pigs in the Lesedi region of Gauteng. Two of the animals died, but the fate of the rest of the herd is not reported.
This outbreak brings the country's total outbreaks since April 2019 to 23. Almost 4,000 pigs have been directly affected. All outbreaks so far have occurred outside the country's ASF control zone. As well as Gauteng, cases have been confirmed in Mpumalanga, Free State, North West Province and Eastern Cape Province.
ASF 'resolved' in Myanmar
In the past week, the livestock ministry has declared to the OIE that the ASF situation has been "resolved."
The move comes after a single outbreak of the disease in the eastern state of Kayah at the end of June. At the time, illegal movements of pigs, swill feeding and fomites were blamed for the apparent return of ASF after a short absence from the region.
ASF cull gets underway in Assam
Finally, a cull to prevent the further spread of ASF is getting underway in the northern Indian state of Assam. The measure had to be postponed in August because of severe flooding in the area, reports Sentinel Assam.
Prompting the action was a new outbreak in Changsari in Kamrup district, in which 44 pigs died. A further 144 animals have already been culled there, according to local officials. Director of the state veterinary authority estimates that at least 12,000 more pigs will need to be culled.
Since the first cases were confirmed in Assam in May, local people report that 100,000 pigs have died of the disease. However, the region's officials put the mortality at 18,000. Owners whose pigs are culled are set to receive compensation of INR2,000-30,000 (US$27-408) per pig, depending on its weight, age and type.
ASF situation in the Philippines
Seven regions of the country remain ASF-free, according to Philippine News Agency (PNA). ASF-free regions — Eastern Visayas, Central Visayas, Western Visayas, Northern Mindanao, Caraga, Zamboanga and the Autonomous Region in Muslim Mindanao — can export live pigs, pork and other pig products anywhere in the country. However, they can only accept shipments from other unaffected areas.
One province to benefit from these regulations is Negros Occidental, reports the same source. Located in the ASF-free region of Western Visayas, it has recently reached an agreement to supply more pigs to Luzon.
Badly affected by previous outbreaks were many small pig herds on the island of Luzon. Almost 250 pig owners there in the province of Nueva Ecija are set to receive a share of PHP16 million (US$329,000) in compensation for their animals that were culled.
The Department of Agriculture reports that a total of 1,491 villages from 323 towns and cities in nine regions of the Philippines have been affected by ASF. The number of pigs culled is approaching 345,000, according to PNA.
View our continuing coverage of the global African swine fever situation.