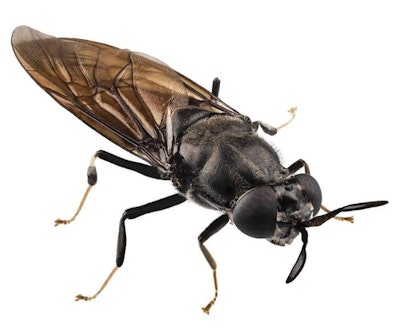 A study in Kenya reveals that black soldier fly larvae can successfully replace less sustainable fish meal in feeds for aquaculture species.
After a four-year research project, scientists have concluded that black soldier fly (BSF) larvae are a suitable alternative protein in local fish feeds, reports Kenya News Agency (KNA).
Until now, aquafeeds in the East African country have been based on a local fish meal known as omena. While this is a high-quality ingredient for fish feeds, it is relatively expensive. As well as presenting the threat of over-fishing, this local fish meal is of variable quality. Furthermore, unscrupulous dealers have been known to dilute omena with non-nutritional or harmful substances such as sand or ground shells.
Previous work seeking alternatives to omena had been unsuccessful. However, a new collaborative project has investigated the potential of BSF larvae in Kenyan aquaculture. Research was conducted by the Kenya Marine and Fisheries Research Institute (KMFRI) and the International Centre of Insect Physiology and Ecology. Funding was provided by the World Bank through the Kenya Climate Smart Project (KCSAP).
Additional benefits of BSF larva meal revealed
Results of the research show BSF larvae as the way to go for aquafeed formulation in Kenya, according to Dr. Jonathan Munguti.
BSF larvae are relatively easy and inexpensive to produce, he told KNA. They thrive on a range of substrates, including cattle manure, chicken droppings, and wastes from kitchens and brewing.
With a protein content of approximately 45%, the larvae are also suitable for inclusion in diets for poultry, pigs and dairy cows, as well as for fish.
As Head of the Aquaculture Division of KMFRI, Munguti said that use of the larvae will not only reduce feeding costs for aquaculture, it will also attract new entrants to the sector.
Already, projects are ongoing around the country to raise aquaculture output from 18,000 metric tons (mt) to more than 70,000 mt. As well as boosting national food security, this higher production will improve the quality of Kenyan diets. Fish consumption is set to increase from the present 4.5 kg per capita to 10 kg by 2022.
Munguti stressed that aquaculture is a climate-smart technology, and it is hardly impacted by changing weather patterns.
Other recent investigations into BSF production and use
In 2019, the International Development Research Centre (IDRC) published the results of a study into insects as alternative protein sources for animal feeds in Kenya and Uganda.
Among its achievements, the work involved the development and testing of a number of insect-based ingredients for the sustainable, safe and cost-effective production of fish and poultry.
BSF larvae were among the species that were found to have a higher protein content (49.5%) than the fish meal available locally. Insects were also high in polyunsaturated fatty acids, flavonoids, vitamins and minerals. No aflatoxin or pesticide residues were found in the species examined. While some potential pathogens were detected in BSF larvae and some other insects, these were inactivated by a short heat treatment.
In developing rearing protocols for selected species, BSF were found to be among the most productive in the IDRC study.
Feeding trials demonstrated improved growth of catfish and Nile tilapia fingerlings with diets based on BSF meal compared with conventional feeds. These also delivered savings of 25-38% in protein costs. Compared with a standard diet, egg production was increased by more than 50% in hens receiving a feed in which 20% of fishmeal was replaced with BSF.
With the majority of farmers, feed traders and processors involved in the study supporting the use of insect meal, IDRC reported that insect commercialization for feed has been adopted in both countries.
Worldwide interest in insect meals
Despite the fact that research and approvals have advanced quickly in recent years, misconceptions persist about insect meal use in animal feeds.
Insects grown on human waste are proving to be a valuable source of protein for Kenyan poultry, as well as improving sanitary conditions for slum dwellers.
Two year ago, the U.S. Food and Drug Administration recommended an amendment to the feeding regulations to allow dried BSF larvae as a feed ingredient for poultry. At the start of this year, Darling Ingredients acquired full ownership of EnviroFlight, a U.S. producer of BSF larvae for animal feed.