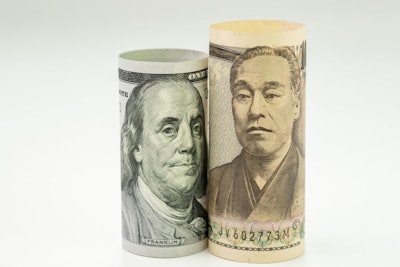 Officials from the United States and Japan have come to a trade agreement in principle that includes agricultural products.
U.S. trade representative Robert Lighthizer said several U.S. agricultural products would benefit from the deal, including beef, pork, dairy and wheat. President Donald Trump said Japan has agreed to buy large quantities of corn and wheat from the U.S.
Final details of the deal, reached August 25, are set to be worked out by the end of September, according to reports. Under the proposal, Japan would cut tariffs on U.S. agricultural products and the U.S. would cut tariffs on some Japanese industrial products, excluding autos.
Welcome news for US ag groups
U.S. agriculture organizations welcomed the news of a potential deal.
"Frozen chicken, turkey and processed egg products will receive favorable tariff reductions, enabling our products to compete more effectively with those of countries in the Trans-Pacific Partnership," the USA Poultry & Egg Export Council (USAPEEC), National Chicken Council (NCC), National Turkey Federation (NTF) and United Egg Producers (UEP) said in a joint statement issued Monday.
"While this is just the first stage of a bilateral agreement, it is welcome news and we would like to thank President Trump, Secretary Perdue and Secretary Lighthizer for their work negotiating trade deals that stand to benefit U.S. poultry and egg products."
Japan is the leading market for U.S. egg product exports, and the second-largest market for U.S. turkey exports. Japan also is a very promising market for U.S. chicken companies that are willing to provide the specific chicken cuts that Japanese buyers are seeking.
The National Corn Growers Association (NGCA) said the agreement sets the stage for increased market access for American agriculture products in Japan.
"This is very encouraging news," said NCGA President Lynn Chrisp. "Japan is the second-largest purchaser of U.S. corn and has been an important, longstanding trading partner with America's corn farmers. We hope the next stage of negotiations are successful in enhancing rules of trade and building on this strong relationship."
Chrisp said NCGA is continuing conversations with the Trump Administration to learn more details on what specifically the announcement will mean for America's corn farmers.
"An agreement with Japan is an achievement NCGA has long advocated for and a much-needed breakthrough amid some challenging times," Chrisp said. "There is more work to do. Moving forward, it's important the administration continue efforts to gain market access for U.S. products and work to reaffirm its commitment to renewable fuels."