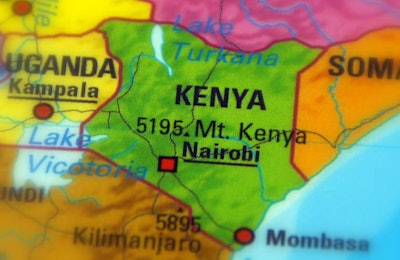 The U.S. Grains Council (USGC) and the Association of Kenya Feed Manufacturers (AKEFEMA) have signed a memorandum of understanding (MOU), pledging to work together to develop Kenya's animal feed industry.
The MOU means the USGC will prioritize activities that address the major constraints that hinder the growth of Kenya's animal feed industry, including an inconsistent supply of raw materials, feed quality concerns, and poor production and management techniques, according to a USGC press release.
To do this, the USGC and AKEFEMA plan to facilitate technical workshops focused on improving feed formulations and management and promoting alternative feed grain ingredients in animal feeds, supported by funding from the U.S. Department of Agriculture's Agricultural Trade Promotion (USDA's ATP) program.
The USGC is also exploring opportunities for alternative feed grains – like U.S. sorghum and dried distiller's grains with solubles (DDGS) – to help the Kenyan feed industry meet growing demand as discussions on biotech corn continue.
Kenya banned genetically modified food and feed imports in 2012, closing the market for U.S. corn exports. However, discussions to lift this ban on corn are ongoing, particularly to address food security concerns.
High cost, low availability
USGC said the cost of corn in East Africa can be more than 80% of total production costs.
"Corn is the preferred energy source for animal feeds in the region, but domestic supplies are increasingly difficult to source," the USGC said. "While Kenya typically produces enough corn domestically to meet between 60% to 70% of feed grain demand, regional droughts are causing production shortages, increasing the cost of corn and, in turn, driving up the cost of animal feed. In combination with increasing feed grain demand, more frequent price fluctuations are occurring, which further hampers development of the industry.
"Because corn is also a staple crop for human consumption in the region, plenty of supply at reasonable prices is critical to both food security for humans and to meet increasing needs for animal protein."
As the population in sub-Saharan Africa continues to grow, food shortages, including that of corn, will also grow. This is why the USGC says better availability of coarse grains from the U.S. is important for the region.
The USDA estimates 57% of growth in coarse grain imports between 2018 and 2028 will occur in Africa and the Middle East.
In April, AKEFEMA called on the government to remove the duty on imported yellow corn for livestock feeds, at least by issuing permits for selected companies to bring in this important feed ingredient. According to the association, this would relieve the market situation where the food and animal feeds are in competition for domestic white corn.
To ease the supply situation, the government agreed to release some of the 21 million bags of corn in storage. This was white corn, so its increased supply will help to lower the price of flour for human food, but did little to aid the livestock sector.
The corn shortage in Kenya is reported to have a several causes, including recent drought conditions, breakdowns in large irrigation systems and reduced government subsidies for fertilizer use.
Domestic production of white corn in Kenya barely covers the requirements by the food sector. Other uses — including for livestock feeds — without the option to import further supplies is putting the market under increasing strain.