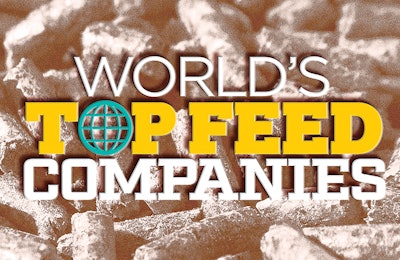 In 2018, 102 global animal feed manufacturers achieved Top Feed Company status by meeting or exceeding 1 million metric tons of compound feed production, according to FeedStrategy.com's Top Companies database. The 2019 Top Feed Companies report and the rankings of last year's largest global feed producers were derived from the exclusive feed industry data compiled by WATT Global Media's research team.
To capture the most accurate information, Feed Strategy's annual Top Feed Companies analysis focuses on the previous calendar year's compound feed volumes.
The figures presented in the 2019 Top Feed Companies report are a reflection of the global feed industry's expansion and broader animal protein production trends.
Feed production leaders
The top 102 feed-producing companies manufactured more than 395.6 million metric tons of compound feed in 2018. To put this in perspective, according to Feed Strategy's June 2019 World Feed Production Trends (WFPT), 2018's global compound feed production volume topped 928.5 million metric tons, meaning these companies represent 43% of the world's tonnage.
From a regional perspective, many of the firms featured in this year's listing are headquartered in Asia (46) and in Europe (29). Eleven are located in North America, seven in South America, five in Africa, three in the Middle East, and one is located in Australia.
View the entire ranking table in the September 2019 issue of Feed Strategy: https://bit.ly/361vltO
Ranking highlights
Some of the ranking changes since 2017 can be attributed to the discovery of new or updated data; however, others are influenced by market conditions, acquisitions or circumstances unique to the company. Keeping that in mind, here are several 2018 Top Feed Companies ranking highlights:
ForFarmers (No. 8) overtook Tyson (No. 9) for the first time, likely due to its acquisition of several European feed businesses in 2018. Acquisitions also assisted in bumping up De Heus two slots to No. 11. This year, Wellhope Agri-Tech makes its debut at No. 28. The Chinese company is majority owned by De Heus, but its feed volumes remain separate.
Dutch cooperative Royal AgriFirm dropped from No. 15 in 2017 to No. 18, with a 3% drop in production.
South Korea's CJ Cheil Jedang assumed the No. 32 slot, jumping from No. 51 in 2017, driven by expansion and its booming frozen foods business. Reports suggest Nutreco is eyeing the company's animal feed assets, which includes mills in China and Southeast Asia.
Harim Group, a South Korean feed manufacturer, saw a significant jump in 2018 (No. 24 from No. 38), presumably because it now includes Jeil Feed's volume in its production numbers.
Turkish feed company Abalıoğlu Group rose to the No. 58 position by increasing its production by 55%. Turkey, the ninth largest compound feed producer in the world (WFPT, 2019), has seen feed volumes grow by nearly 10% year over year.
Danish seafood and aquafeed producer BioMar Group moved to up to No. 81 from 91, expanding into new markets and profiting despite fierce competition from the Norwegian aquaculture sector.
Russia's Myronivsky Hliboproduct (No. 64 to No. 66) and French cooperative Terrena (No. 73 to No. 77) dropped in the 2018 ranking while three other companies saw slight gains: Grupo Vall Companys (from No. 64 to No. 62), Prestage Farms (No. 77 to No. 71) and Astral Foods (No. 76 to No. 72).
Two new Russian companies have been added to the listing: GAP Resurs (No. 85) and Prioskolye (No. 91).
Also notable, Belgium's Aveve Group changed its name to Arvesta (No. 67); however, it retains the Aveve brand.
Considering new data, Malayan Flour Mills has been removed from the 2018 listing.
Acquisitions shape ranking
Mergers and acquisitions are constantly reshaping the agribusiness landscape and, consequently, the annual Top Feed Companies listing.
In 2018, the global feed industry saw a lot of merger and acquisition activity among feed additive companies, but not many major shake-ups in the feed manufacturing space. However, it would be remiss to exclude mention of 2018's major M&A headline: ADM's acquisition of Neovia. The sale was not finalized until February 2019, so it is not reflected in this year's report.
Other notable changes over the past five years include Nutreco's acquisition of Hi-Pro Feeds (2017); Cargill's purchase of Southern States Cooperative (2017); Alltech's 2017 takeover of Ridley Inc., Masterfeeds and Coppens (2016); and WH Group's acquisition of Smithfield (2013).
For the past several years, WATT Global Media's research team has worked to standardize the way parent companies and their subsidiaries are displayed in the Top Companies database. To examine the holdings of the parent companies in this year's Top Feed Companies report, visit WATT Global Media's Top Feed Companies database to search historical data, milestones and additional company information.
Looking ahead
Aside from M&A shifts yet to be recorded in this report, the impact of international trade disputes and African swine fever's effect on Asian swine markets and potential to boost other proteins will likely produce major shifts in 2020's Top Feed Company rankings.
Meanwhile, seven companies are coming close to hitting the 1 million metric ton mark, charting volumes upward of 900,000 metric tons of compound feed production in 2018.
Editor's note: The World's Top Feed Companies report was drawn from WATT Global Media's Top Feed Companies database. Please direct comments and questions to topco@wattglobal.com.