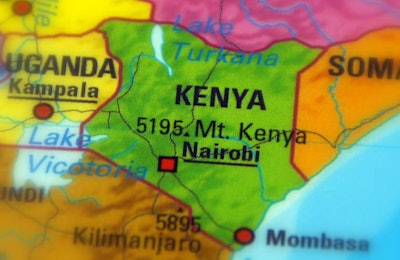 While the Cyclone Idai last week caused devastation through flooding in Mozambique, Malawi and Zimbabwe, a little farther north, recent drought conditions have ravaged crops in Kenya.
Kenyan authorities have been delivering food and animal feed to affected communities in 13 counties, according to local news agency, Capital FM.
County governments have distributed food aid — including corn, beans and rice — as well as almost 300,000 bales of animal feed so far to the struggling population. Of the KES1.72 billion (US$17.1 million) available to finance these mitigation efforts, KES1.4 billion has been disbursed by the council representing the governors of all Kenyan counties.
More than 1.1 million people in Kenya are estimated to be in a situation of food insecurity and facing starvation, and hundreds of livestock have already died due to shortages of feed and water.
The latest Crop Conditions Bulletin published by the Ministry of Agriculture, Livestock. Fisheries and Irrigation shows large areas in the south and west of the country with corn crops described as "poor," which is attributed to the late onset, early cessation and erratic nature of the seasonal rains. These conditions have led, at best, to low planted acreages, and poor establishment and growth of the plants. Some areas in the southwest have reported total crop failure.
Pasture growth has also been reduced by the lack of rainfall, according to the State Department for Crops Development.
Looking ahead, the drier-than-usual conditions have facilitated preparations for the coming long rains season, and enhanced rains are expected to bring relief to those areas that have experienced the recent drought conditions.
More imports expected
Kenya's poor harvests and growing demand are forecast by the USDA Foreign Agricultural Service (FAS) to lead to an increase in import requirements by the East African country for corn, wheat and rice. FAS does not attribute the low domestic production of these crops to the recent drought conditions.
The Kenyan government's decision to reduce fertilizer subsidies is partly to blame for the low corn harvest, according to FAS, along with the premature harvest to produce corn silage for livestock. A surge in imports is likely to fill the gap in supply as the expanding livestock sector further increases the demand for corn.
FAS forecasts Kenya's corn requirement for feed to be 450,000 metric tons (mt) in the current marketing year (to July 2019), rising to 500,000 mt next year. With food demand likely to reach 4.2 million metric tons (mmt), domestic production of an estimated 4.05 mmt will not be sufficient to cover the country's requirements.
While limited amounts of wheat are used in animal feeds, Kenya's demand for wheat is rising for food products such as breakfast cereals and pasta. The area planted with this grain has been in decline as farmers opt to grow other crops. Of Kenya's total wheat requirement in the current market year of 2.8 mmt, FAS forecasts the volume used in animal feed at 170,000 mt.
Delays in planned irrigation schemes have been holding back rice production in Kenya, according to FAS, leading to increased reliance on imports while demand for the grain grows as a food as the result of increasing urbanization and rising household incomes.
Last year saw droughts in other areas of the world, with the effects on livestock producers and feed manufacturers being reported recently as far away from Africa as Ireland and Finland.