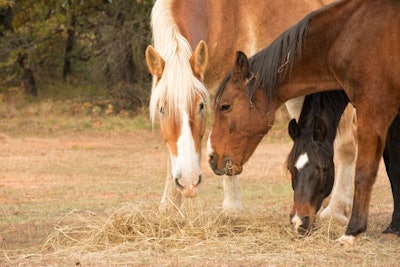 There have been many reports this summer about drought in parts of the U.S. making it hard for ranchers to feed their livestock, especially in states from Colorado to California and as far south as Texas. And now, horse owners in some regions are struggling to feed their animals, too.
The U.S. Drought Monitor map for August 30 shows that much of Missouri and parts of the Southwest and Texas are suffering from drought conditions.
Cattle operations have been forced to send animals to market early because the cost to feed them is too high. Large round bales are averaging $55 in Central Texas, up about 22 percent from $45 a year ago, according to the U.S. Department of Agriculture (USDA). Texas A&M University's AgriLife Extension Service has received reports of bales selling for up to $125 west of Austin.
Horse lives in danger
KDVR in Franktown, Colorado, recently reported that the cost of hay in the state is making it very difficult for horse owners to keep their animals. The news source spoke with Andrea Mena, vice president of Drifters Hearts of Hope Rescue, who said: "We've normally been paying $65 a bale. Now we're paying between $90 and $125 or more for those bales."
Drifters Hearts of Hope is a nonprofit horse rescue specializing in saving equines from slaughter.
Like many other U.S. states, lack of rain has limited the number of hay cuttings farmers have had this year.
"We normally get owner surrenders maybe one or two a month," Mena told KDVR. "We are getting between two and three calls a day from people who can no longer keep their horses and afford to feed them."
Due to the hay shortage, the nonprofit organization will have to scale back the number of horses they take in.
KDVR reported the nonprofit would have to pay about $6,000 more per month to keep up with the demand for hay it normally requires. Without funds, it may have to turn horses away which could result in owners sending their horses to slaughter.
International drought conditions
The Agriculture Producers Association of Saskatchewan (APAS) has asked Canada's agriculture minister in a letter to extend the 2018 Livestock Deferral Tax credit because of drought conditions.
Additionally, the European Commission presented an additional package of actions aimed at increasing the availability of fodder resources for livestock, one of the main challenges faced by farmers dealing with the impact of drought.
Other reports have suggested wheat yields are down globally.