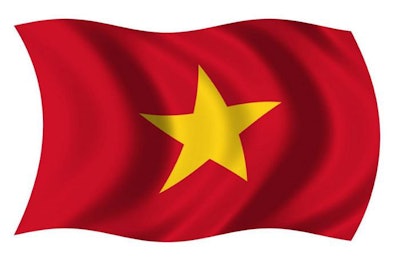 Over the past decade, Vietnamese livestock feed output has risen strongly from 13 million metric tons (mmt) in 2008 to more than 23 mmt this year, according to the Ministry of Agriculture and Rural Development (MARD).
However, Vietnam News reports that a growing share of this increase is being achieved by foreign direct investment (FDI) enterprises.
Of the 240 animal feed companies in the country, 180 are run by local firms, according to new statistics from the Viet Nam Animal Feed Association. However, these now account for 12,465 metric tons or just over 40 percent of the total output.
"Domestic enterprises are vulnerable due to lack of capital, slow investment in modern production lines, and a shortage of raw materials," said Pham Duc Binh, the association's vice chairman.
Nevertheless, larger local companies such as Masan, Hoa Phat, Hung Vuong and Vingroup, have been investing in animal feed production expansion.
"FDI enterprises have a history of research and invention for animal feed suitable for each growth stage of pigs and chickens," said Binh.
FDI enterprises are also being blamed for holding back Vietnamese poultry production.
According to agricultural consultant Dang Kim Son, foreign companies are benefiting from the importation of corn.
A key feed ingredient for the sector, corn is not grown in sufficient quantities in Vietnam due to poor yields and a fragmented market. MARD estimates that domestic corn production could not be increased much above 3 mmt, which amounts to around half of demand. The country's main homegrown feedstuffs are rice bran and cassava.
Continuing an upward trend, animal feed imports are likely to reach more than US$3.8 million this year, according to the trade ministry.
Latest foreign feed investments
Since the start of this year, at least two new animal feed production facilities have been inaugurated by FDI companies in Vietnam.
At a cost of US$31.5 million, a fifth feed mill in the country to be funded by South Korean conglomerate, CJ Group (Cheil Jedang), has been constructed in the northern province of Ha Nam.
A joint venture between Australia and Vietnam, Mavin Group inaugurated its new mill, Mavin Austfeed Dong Thap, in May this year at a cost of US$30 million in the Mekong area in the south of the country.
With an annual capacity of 400,000 mt, this is the largest feed mill in the country, and the group's fifth in Vietnam. As well as full automation and modern technology, the facility has its own wharf system, which can serve vessels up to 5,000 mt with conveyor belts and robots for automatic loading and unloading.