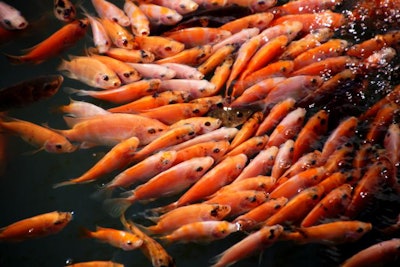 Agreement has been reached to provide funding to support the development of Kenya's aquaculture industry, and Victory Farms plans to double the capacity of its tilapia hatchery in the East African country by next year.
The goal of the Aquaculture Business Development Programme, which is co-financed by the International Fund for Agricultural Development (IFAD), is to support thousands of Kenyan people living away from towns and cities to become successful fish farmers, or to join a village-based group providing support services for the sector.
Kenya was chosen for the program because of its 10 million people at risk of food insecurity and malnutrition, as well as an established aquaculture infrastructure and adequate water resources.
The approach combines public and private investors with community-based initiatives to improve education and access to nutritious and affordable food.
Total cost of the Aquaculture Business Development Programme is put at $143.3 million, including a $40 million loan from IFAD. Funding will also be provided by the Government of Kenya ($31.4 million), United Nations' Food and Agriculture Organization (FAO) ($400,000), as well as $43.6 million from the beneficiaries. The financial shortfall — almost $28 million — will be met by future IFAD funding rounds or from new finance partners.
This approach combines public and private investors with community-based initiatives to improve education and access to nutritious and affordable food. Within the rural community, women and young people will be particularly targeted with support to encourage these groups to remain in the rural areas, and not to migrate to the cities.
IFAD says it has invested more than $376 million in 18 rural development projects that have benefited more than 4.3 million households in Kenya since 1979.
Largest tilapia farm in sub-Saharan Africa by 2019
With a capacity of 5,000 metric tons (mt), the hatchery operated by Victory Farms is the largest in Kenya, but the firm has announced plans to double output to 10,000 mt of tilapia fingerlings by next year.
Speaking at this year's AquaVision conference organized by Skretting, Victory Farms CEO Joseph Rehmann said construction of new broodstock ponds has already begun, reports Undercurrent News.
Production is set to reach 1,200 mt in 2018, up from just 170 mt in 2017.
Instead of selling its fish to retailers, Victory Farms set up a sales network among mainly female market traders in the poorest city suburbs. This strategy has helped to hold down prices for consumers, according to Rehmann.
Victory Farms only started looking for its first production site in 2015, eventually finding a suitable location on Lake Victoria and employing 100 people.
By 2017, the firm says it had become the largest fish producer in East Africa, with a vertically integrated production model from hatchery to sales. Rehmann says the company is now looking to source its own raw materials so it can produce its own feed.
Sustainability of its tilapia production is key for Victory Farms. The firm says from its Lake Victoria farms come "among the most sustainably produced tilapia on the planet."
Investors from other countries have also identified Kenya as a country with investment potential. A group from Turkey recently agreed to invest in the East African nation's animal feed industry, and the United Kingdom government is also co-funding research in Kenya to improve the health and productivity of farm animals in tropical countries.
Evonik has recently inaugurated its first animal nutrition lab in the capital city, Nairobi.