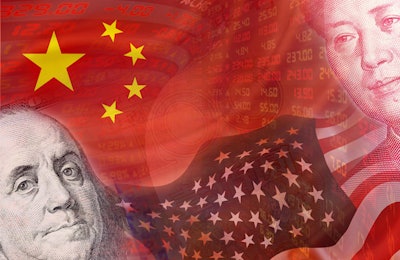 The United States will impose a 25 percent tariff on $50 billion worth of Chinese exports, and China has promised immediate retaliation with tariffs on U.S. products, including soybeans, corn and wheat.
Trade tensions between the two countries heated up in April, and disputes between the U.S. and its allies Canada, Mexico and the European Union have escalated in recent weeks.
Agriculture groups respond
U.S. ag groups said they are disappointed in the news, and that the U.S. ag economy stand to lose millions as a result.
"This decision not only inflames trade tensions between the two countries, but also means U.S. soybean growers, who shipped roughly $14 billion in soybeans last year to China – their No. 1 export market – stand to quickly feel the impact of retaliatory tariffs," the American Soybean Association (ASA) said in a statement. It said it was "disappointed in the administration's decision, which follows weeks of imploring the president and his team to find non-tariff solutions to address Chinese intellectual property theft and not place American farmers in harm's way. ASA has twice requested a meeting with President Trump to discuss how increasing soy exports to China can be a part of the solution to the U.S. trade deficit without resorting to devastating tariffs."
The National Corn Growers Association (NCGA) agrees.
"Farmers are busy in the fields and need to be able to count on markets for their crops when it comes harvest time. They cannot afford the immediate pain of retaliation nor the longer-term erosion of long-standing market access and economic partnerships with some of our closest friends and allies," NCGA said in a statement.
Farmers for Free Trade said the tariffs will be a blow to American farmers.
"For American farmers this isn't theoretical anymore, it's downright scary," Farmers for Free Trade said in a statement. "It's no longer a negotiating tactic, it's a tax on their livelihoods. Within days, soybean, corn, wheat and other American farmers are likely to be hit with retaliatory tariff of up to 25 percent on exports that keep their operations afloat. When they do, they're not going to remain silent.
"The imposition of these tariffs is not only a blow to our farmers, it's a win for our competitors. When American soybeans and corn become more expensive, South America wins. When beef becomes more expensive, Australia wins. As this trade war drags on, farmers will rightly question why our competitors are winning while we're losing."