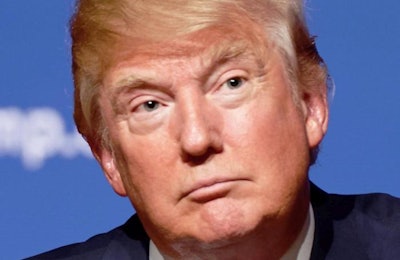 Michigan Farm Bureau reported there may be some good trade news for U.S. agriculture after the recent escalation in a threatened tariff trade war with China and ongoing uncertainty in the final outcome of renegotiations of the North American Free Trade Agreement (NAFTA).
U.S. President Donald Trump told the director of the National Economic Council (NEC) and the United States Trade Representative (USTR) to negotiate the country's re-entry into the Trans-Pacific Partnership (TPP), according to a senator who met with the president in early April.
The TPP is a 12-country trade agreement that Trump pulled the U.S. out of three days after his inauguration. The president, who vowed to withdraw from the trade agreement during his campaign, lived up to that promise, despite TPP's widespread support from the agriculture industry.
The TPP, finalized in February 2016 but not ratified by the U.S. before Trump withdrew the United States' signature from the pact, is now the Comprehensive and Progressive Trans-Pacific Partnership (CPTTP) and involves the other 11 original TPP countries.
Various agriculture associations and groups have encouraged or voiced their desire for political officials to help with trade since the country's withdrawal from the TPP.
According to Michigan Farm Bureau Livestock Specialist Ernie Birchmeier, "Ratification of the CPTPP is expected this spring, and the trade partners could consider adding new members not long after."
"There are few differences between the TPP the U.S. signed and the CPTPP, so if the U.S. were to become a member, it would be viewed as a significant win for U.S. agriculture," Birchmeier said.
Farm Bureau predictions
According to the American Farm Bureau Federation's projections under TPP, annual net farm income would have jumped by $4.4 billion, driven by an increase of direct U.S. agricultural exports of $5.3 billion per year upon full implementation of the agreement.
It is estimated that increased market prospects for U.S. farmers would have added more than 40,100 jobs to the U.S. economy.
Eliminating tariffs and other barriers on United States' agricultural products going into countries party to the CPTPP – Australia, Brunei, Canada, Chile, Japan, Malaysia, Mexico, New Zealand, Peru, Singapore and Vietnam – would have increased trade for a range of U.S. agricultural products, including beef, pork, fruits and nuts, vegetables, soybeans, poultry, dairy, rice, cotton and processed food products.
On April 12, Trump tweeted: "Would only join TPP if the deal were substantially better than the deal offered to Pres. Obama. We already have BILATERAL deals with six of the eleven nations in TPP, and are working to make a deal with the biggest of those nations, Japan, who has hit us hard on trade for years!"
Japan, Australia and New Zealand said they welcomed Trump's interest in returning to the deal, but officials suggested they would resist renegotiation of the deal.
"It's critical to remember that CPTPP is a multi-lateral agreement intended to create high-quality rules and market access for all of its members," Birchmeier said, adding that other member-countries are already negotiating and implementing bilateral agreements without waiting for the U.S. to complete action.
"U.S. failure to join CPTPP will not see our trade situation stay the same, but will actually lead to additional declines in net exports and desperately needed market share in important markets," he said.
CPTPP projections in the U.S.
U.S. beef and pork exports are expected to be $1 billion and $940 million higher, respectively. Livestock receipts are projected to be $5.8 billion higher with approval than without. Net farm income is projected to be $4.4 billion higher. U.S. farmers are expected to add more than 40,100 jobs to the U.S. economy. Net trade is projected to rise for rice, cotton, beef, pork, poultry, butter, cheese and nonfat dry milk. Crop sector, including fruits and vegetable, receipts are expected to be $2.7 billion higher.