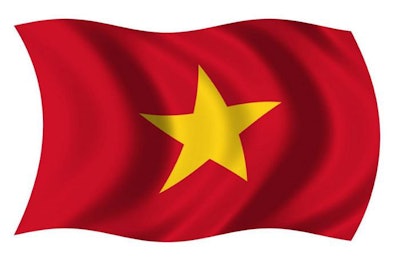 After total animal feed production in Vietnam dropped by almost 15 percent between 2016 and 2017, the USDA Foreign Agriculture Service (FAS) is forecasting a modest expansion in output of 3 percent this year to 30 million metric tons (mmt).
In its latest GAIN report on the current state of the Vietnamese industry, FAS is expecting the growth to come mainly from the aquafeed sector rather than livestock or poultry, and from industrial compound feeds rather than home-mixed rations.
While total Vietnamese feed output fell from almost 34.17 mmt in 2016 to 29.1 mmt last year, feed for aquaculture species is estimated by FAS Vietnam to have increased by 5 percent from 2016 to 5.75 mmt in 2017, and to rise by a further 7.8 percent to 6.20 mmt this year. Meanwhile, volumes for land animals contracted from 28.69 mmt in 2016 to an estimated 23.35 mmt in 2017 — a fall of 18.6 percent. The FAS estimate for 2018 is 23.8 mmt, which would represent a recovery in the order of 1.9 percent from last year.
Changes in pig meat market
In a previous report, these fluctuations in production of feed for land animals can be largely attributed to rapid changes in the pig meat market, according to FAS.
From December 2015, Vietnam's borders with neighboring countries opened for unregulated trade in pig meat, leading to a sharp rise in pork production across Vietnam, particularly by smaller producers. As a result, total feed production rose 26.4 percent in 2016 from 20.87 mmt the previous year. After 12 months, the borders were closed to this trade in pig meat, and the excess supply caused the pork price to decline sharply on the home market, reducing the attractiveness of hog production for Vietnamese producers.
Rapid growth in industrial feed sector
FAS is forecasting increasingly rapid growth in the industrial feed sector into 2018 by as much as 6.7 percent to 21.90 mmt. The figure for 2016 was 19.62 mmt, and this expanded by an estimated 4.6 percent to 20.52 mmt for 2017. The home-mix market was heavily impacted by the changes in pork trading, showing a reduction from 14.55 mmt in 2016 to just 8.58 mmt in 2017 – a reduction of more than 40 percent – and a further 5.6 percent contraction to 8.10 mmt is forecast by FAS for this year.
In 2018, FAS expects these changes in Vietnam's feed industry to affect the composition of animal diets, and to increase the country's requirements for imported ingredients, such as soybean meal, corn, and distillers grains with solubles, as well as for locally produced animal byproducts such as meat and bone meal and fish meal.
Use of locally produced feedstuffs such as corn, rice bran, broken rice and cassava in 2018 are expected by FAS to remain largely unchanged from last year, as are imports of finished feed at 1.5mmt.
At the end of 2017, the Business Association of High Quality Vietnamese Products and GMP+ International formed an agreement to improve the safety of Vietnamese livestock feeds through enhanced management of the feed supply chain.