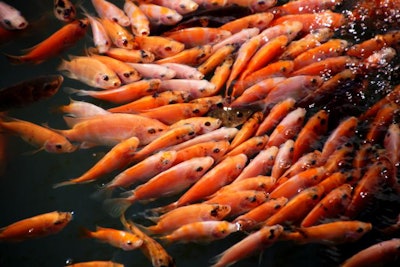 Seeing the greatest growth potential in the aquaculture sector, Aller Aqua has chosen Zambia as the site of its latest aquafeed mill.
This mill — the Denmark-based firm's fifth globally, and its second in Africa — was inaugurated last week.
"The growth in Egypt and the success we experience through our own sales companies in Nigeria, Kenya and Ghana prove that there is a market for aquafeed of a higher quality than the customers here are used to," said Henrik Halken, group vice president for Aller Aqua Group. "We have been present in Africa for a long time, and now the time was right to take the next step and establish an additional factory."
Annual capacity of the Zambian feed mill is 50,000 tons, and the investment amounted to US$10 million.
Plans for the mill were announced in April 2016, as a partnership with Oakfield Holdings Ltd., and with an agreement with tilapia producer Yalelo Ltd.
Explaining Yalelo's involvement in the project, its CEO, Bryan McCoy, said his firm's ambition is to expand tilapia production by 50 percent per year.
"It is crucial to find the right people for collaboration in any market," said Niels Lundgaard, commercial director – Africa for the Aller Aqua Group. "We have found these people, and this has given us the best possible starting point in the market. Locally, we have some very strong teams in place. The key is local knowledge, industry-specific experience and a drive to take the projects further."
For Aller Aqua, the new feed mill represents a strong foothold in the African market and a base for future exports to neighboring countries.
With the United Nations forecasting Africa's human population to reach two billion by 2050, demand is likely to grow significantly for high-quality, sustainably produced protein such as fish. By manufacturing better aquafeeds, it is Aller Aqua's strategy to support local fish farmers to achieve higher yields from their farms and finish the growth cycle in a shorter time so they can earn more money for their families and expand their own workforce.
Also this year, Aller Aqua opened a new production line at its aquafeed factory in Egypt, based on expectations of growing demand in the Middle East.