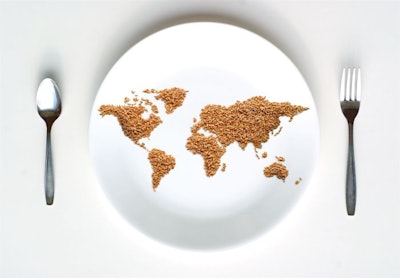 World agricultural markets are projected to remain weak over the next 10 years, according to the OECD-FAO Agricultural Outlook 2017-2026.
The outlook, published by the Organisation for Economic Co-operation and Development and the Food and Agriculture Organization of the United Nations, says future growth in crop production will mostly come from increasing yields, and growth in meat and dairy production. It also said agricultural trade will grow more slowly, but will be less sensitive to weak economic conditions than other sectors; that commodity prices will remain flat or decline; growth in China will weaken; and biofuel policies will have less of an effect on markets.
Crop, meat, dairy production
The report says crop yield growth is projected to decrease slightly but, by closing large yield gaps – primarily in sub-Saharan Africa – output could rise. Growth in the soybean sector is expected to satisfy the demand for animal feed and vegetable oil.
Meat and dairy production growth is projected to be achieved from larger herds and higher output per animal. Poultry and milk production are expected to see large gains.
Farmed fish production is the fastest-growing source of protein among the commodities examined in the outlook. China is expected to maintain more than 60 percent share of global fish production.
Agricultural trade
Agriculture and fish trade is expected to slow over the next decade to half of the previous decade's growth rate.
Further market liberalization could boost agricultural trade. Exports from the Americas, Eastern Europe and Central Asia, and imports across other Asian and African countries are expected to increase.
"Food imports are becoming increasingly important for food security, particularly in Sub-Saharan Africa, North Africa, and the Middle East," the report summary said. "While for some countries this may reflect greater demand but insufficient natural resources for growing food domestically, in other cases it may indicate agricultural development problems which need attention."
Commodity prices
Most agricultural and fish commodities are expected to stay below previous peaks over the next 10 years. The report summary says, "Prices of agricultural commodities are subject to considerable volatility and may show large deviations from their long-term trends for an extended period of time."
China and biofuel
In the past decade, the primary sources of growth were China and the biofuel sector. Rising demand for meat and fish caused feed consumption to rise 6 percent per year, and use of feedstock inputs for the biofuel sector grow by 8 percent per year. But the outlook says, "these recent drivers are not anticipated to support markets in the same way over the medium term, and no other sources to replace them are foreseen."