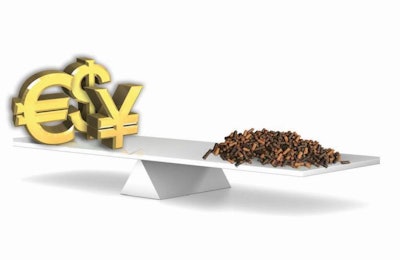 Global compound feed production rose by 1.6 percent in 2014 — in part driven by the growing volumes of the world's leading animal feed manufacturers. In total, the companies featured in the this year's "World's Top Feed Companies" report account for more than 40 percent of total global production.
The report is drawn from WATT Global Media's exclusive "Top Feed Companies" database, which features company data identified and vetted by WATT's research team.
Comparing 2013 and 2014 figures reveals movement within the ranks of many of these feed companies over the course of the year. The 2014 edition features a total of 101 firms producing 1 million metric tons of compound feed or more — including 12 companies making their debut in this report. Meanwhile, if you were to compare last year's analysis with the current edition, you will also find a handful of companies that have fallen off the list entirely.
The following analysis reviews the regional growth of feed-producing companies and highlights a few of the major developments with key players in 2014 and the first half of 2015.
China leads the charge
When breaking down the regional makeup of companies, Asia accounts for the greatest representation on the Top Companies list, boasting 47 companies in total, 23 of which are located in China. Considering that Asia supplied one-third of world's animal feed in 2014, this comes as little surprise.
A broad look at the production developments by continent shows that Europe claims the second largest number of high-volume feed producers and North America ranks No. 3. However, when you look closely at the volumes of European and Asian companies, many of the producers are down slightly compared to their 2013 figures.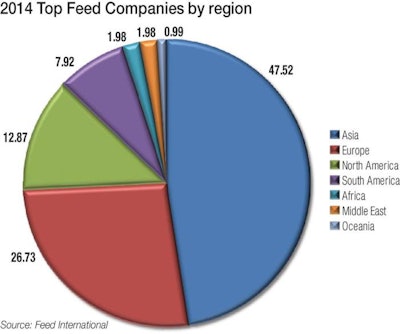 In 2014, 101 compound feed-producing companies produced more than 1 million metric tons. As in years past, Asia continues to dominate global production.
Sorting the information by country reveals that the United States possesses 11 of the top companies; Brazil, France, Thailand and Japan each have five companies in the top 101; Germany, the Netherlands and South Korea are each represented by four companies; and India and Denmark have three.
The 2014 report also features two South African companies and Australia's largest feed producer.
Ups and downs
This year, U.S. agribusiness giant Cargill bumped the New Hope Group out of the No. 2 position after the Chinese company saw a notable decline in its 2014 production volume. That being said, with the pending 2015 sale of Cargill's pork holdings to JBS S.A. (No. 36) and its recent purchase of Norwegian aquafeed manufacturer EWOS (No. 82), we may see a shift in the rankings in the 2016 edition of this report.
On the uptick, Wen's Food Group (No. 5), China's West Hope Group (No. 26) and Easy Bio (No. 48) each report nearly doubling their production in 2014 over 2013 numbers.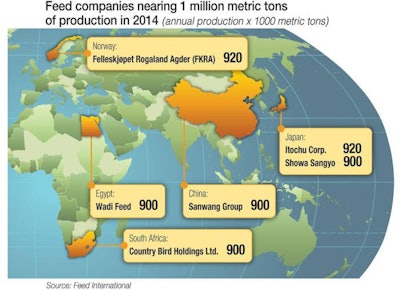 Making their debut on our "companies to watch" list, Japan's Itochu Corporation, South Africa's Country Bird Holdings and China's Sanwang Group grew their production to more than 900,000 metric tons. Meanwhile, Wadi Feed's production dropped 100,000 metric tons from 2013 estimates.
Indonesia's Malindo Feedmill (No. 80) made the cut this year, jumping from last year's "Companies to Watch" list by growing its output from 900,000 metric tons to 1.25 million metric tons in 2014. Egypt's Wadi Feed's slight drop from 1 million metric tons to 900,000 metric tons moved the company from the Top Feed Companies report to the aforementioned list (see graphic: "Feed companies nearing 1 million metric tons of production in 2014").
Notable mergers & acquisitions
The global feed industry has had its share of notable headlines in 2014 and into the first half of 2015. For example, a number of multinational corporations increased their momentum on the world stage through major acquisitions, sales and mergers.
Major feed players in Europe saw some changes in 2014. The world's 10th largest feed producer, Dutch cooperative ForFarmers, made a series of acquisitions, such as HST feeds and WheyFeed Holdings. And, Dutch animal nutrition and aquafeed producer Nutreco (No. 13) was acquired by SHV Holdings.
In the United States, Ridley Hubbard (No. 74) was purchased by Alltech, an animal nutrition and feed additive supplier.
France's Glon Sanders (No. 29) saw a minor drop in its total feed production (from 4 million metric tons to 3.6 million metric tons) after it sold its broiler operations to investment firm LDC Group.
French animal nutrition company Invivo (No. 51) made a major move into the pet food market with the purchase of one of Brazil's largest pet food manufacturers, Total Alimentos.
This year a couple of companies can be found under new names. Feed One (No. 40) enters the list after Kyodo Shiryo and Nippon Formula merged. And if you're wondering about Vietnam's Proconco, the company was renamed Masan Nutri-Science (No. 60) after its acquisition by the Masan Group in 2015.
2015 outlook
Through the duration of 2015, it will be interesting to see how geopolitical and economic conditions influence the production volumes of the world's top feed companies. Add to this unknowns, such as animal disease and grain volatility, and the year to come may bring significant changes to next year's Top Feed Companies report.
Editor's note: Research for this project was conducted by Peter Best and Ellen Posledni. Please direct comments and questions about the WATT Global Media's Top Feed Companies data to [email protected].