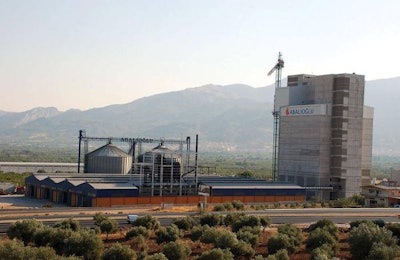 Turkey is one of the five largest compound feed producing countries in Europe — and it ranks among the top 15 in the world.
"With its improved infrastructure, knowledge and expertise, the Turkish feed sector is the locomotive and driving force of the livestock sector," explains Dr. Nizamettin Şenköylü, secretary general, TURKIYEMBIR (Turkish Feed Manufacturers Association). "The feed sector produced 18 million [metric] tons of compound feed in 2014. When home mix volumes are is taken into account, total production is estimated to be 20 million [metric] tons."
Over the last decade, the Turkish feed industry has performed at an average growth rate of 10 percent year over year. According to TURKIYEMBIR's estimation, Turkish feed production will keep with this growth trend, reaching to 22 million metric tons in 2015.
Snapshot of the Turkish feed sector
The Turkish compound feed industry has been managed by the private sector for the last 20 to 25 years "as privatization has been a prevalent trend."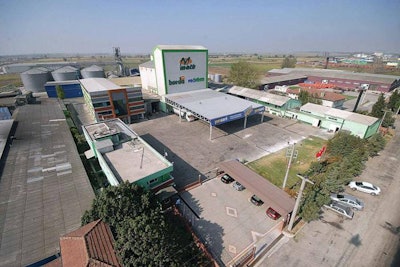 TURKIYEMBIR | A feed mill belonging to Turkey's largest feed producer, Matli General Feed.
Given their resources, large integrators account for a sizable portion of the country's feed production, achieving capacities of nearly 1 million metric tons annually. Sixty percent of the country's compound feed plants have production capacities lower than 10 metric tons per hour.
Currently, 450 Turkish companies operate more than 500 compound feed plants, producing a range of animal feeds.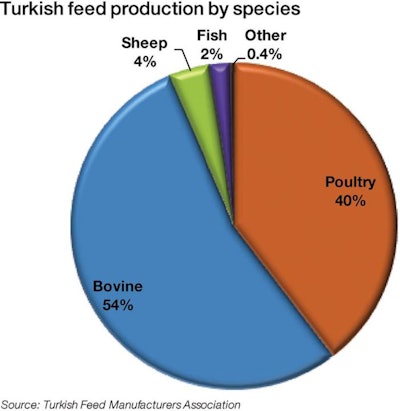 TURKIYEMBIR | The majority of Turkish compound feed production is fed to ruminants (59 percent bovine, 4 percent ovine). Poultry accounts 39.6 percent of production.
By species, 8 million metric tons of Turkey's 2014 feed production were allocated for dairy and beef cattle; 6.5 million metric tons for poultry; and 2.5 million metric tons for ovine and other types of feeds.
In 2014, broiler feed production dropped by 2.5 percent; however, layer feed production increased by 55 percent. Overall, total poultry feed production grew by 12 percent compared to 2013. Meanwhile, ruminant feed experienced an increase of 15 percent during the same period.
The estimated 2015 growth rate for poultry and ruminant feed production is 4 percent and 15 percent, respectively.
Raw material challenges
The raw feed ingredient supply and its related volatility may pose a major challenge for Turkey's growing feed sector in the years to come. Şenköylü suggests ingredient deficits will likely increase grain imports — especially for oilseed and oilseed meal.
In 2014, the Turkish feed industry imported 10 percent of its grains and 75 percent of its oilseeds — in total spending $3.8 billion to import 9 million metric tons of the various feedstuffs. It is almost completely dependent on soybean and soybean meal imports.
According to Şenköylü, roughly 43.5 percent of Turkish compound feed production was carried out using imported feed ingredients.
Looking forward, he hopes the country will achieve grain and oilseed self-sufficiency to give the feed industry a competitive advantage.
Export markets show much promise
In the coming years, Şenköylü anticipates Turkish compound feed production will continue to expand – driven by a growing population, an increase in per-capita income and the rising regional popularity of animal proteins.
Attributable to religious and other cultural differences, per-capita consumption of livestock products in Turkey is very low compared to other countries. However, Turkey is increasing its exports of chicken, eggs, red meat, dairy and other animal products to meet demand in the Middle East, Eurasia and North Africa.
Şenköylü feels the Turkish feed industry's compliance with EU regulations and the country's central location in proximity to the burgeoning markets in Asia and Africa will allow the sector to become a "hub for the [regional] food supply chain."
"This demand pressure will attract the world's leading compound feed manufacturers and encourage them to come to Turkey to investment in the feed business," he says.
Provided Turkey can maintain its growth rate, he predicts the country's feed production will reach 30 million metric tons over the next decade.
Turkey hosts 2016 Global Feed & Food Conference
Under the theme "Equity and prosperity for all," the International Feed Industry Federation's (IFIF) 2016 Global Feed & Food Conference (GFFC) will be held in Antalya, Turkey, April 18-20, 2016. The 5th edition of the event will focus on major developments within the international feed-to-food chain, including topics associated with sustainability, markets and trade, global regulations and feed trade facilitation, biosecurity and animal nutrition.
Beyond the event's conference schedule, attendees will have the opportunity to meet with a diverse group of scientists, regulators and global leaders from around the globe. The accompanying exhibition aims to foster new partnerships between vendors and buyers.
Antalya was selected for its central location between Asia, Europe and Africa, which will allow international attendees convenient access to the event.
TURKIYEMBIR, the Turkish Feed Manufacturers Association, will host the conference in partnership with event organizer IFIF and co-organizer the European Feed Industry Association (FEFAC). For more information about GFFC, please visit www.gffc2016.com.
Turkish Feed Industry Overview
Number of companies producing animal feed: 450
Number of feed mills: 508
Total 2014 compound feed production volume: 18 million metric tons
2014 revenue: $9 billion
Premix facilities: 108
Total volume of premix production: 240,000 metric tons
Market area for finished feed exports: Middle East, Caucasus, Eurasia