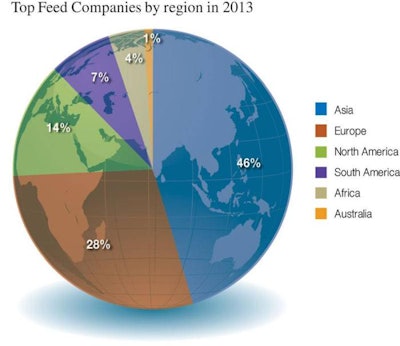 As the demand for animal protein gains momentum the world over, compound feed production experiences correlated gains. Feed International's Top Feed Companies database sheds light on such regional and global trends. The following report, which includes a compilation of 2013 data — the most recent available — now features an additional 12 companies with production volumes over 1 million metric tons. While this jump can be attributed to grow in some sectors, the increase may also be attributable to an increased interest in this annual report and the willingness of new companies to share their data.
As recently reported in Feed International's World Feed Panorama (March/April 2014), the world's industrial feed mills produced 825 million metric tons of compound feed in 2013. WATT Global Media's research team, who compiled the data presented in the exclusive Top Feed Companies database, has identified 96 of the world's largest compound feed manufacturers by volume. In total, the companies featured in the following table represent more than 301 million metric tons – or 36.5 percent – of global compound feed manufactured during the 2013 calendar year. Asian feed continues to expand
The Top 15 companies alone account for nearly one-fifth of all global production – the majority of which are located in Asia. In fact, when broken down by region, Asian feed companies overall accounted for 44 percent of leading compound feed producers for livestock and aquaculture (see Figure 1).
While Thailand's CP Group holds the top slot, China continues to reign as the country with lion's share of high-ranking companies. Japanese and South Korean companies also have reported increasing volumes (see Table 1).Losses and gains
In comparison to our 2012 data, there was a bit of movement – both positive and negative – in the list during the course of the year.
Cargill, who reported having a "difficult year," moved to No. 3, losing the No. 2 position by roughly 800,000 metric tons to the New Hope Group. China's Yuetai Group leapt from No. 32 to 16. J.D. Heiskell & Co. grew from the No. 40 position to No. 27 after a series of acquisitions and capital investments.
Meanwhile, the former No. 73 slot holder, India's Amrit Group fell off the top companies list after its volume dropped by nearly 1 million metric tons, as did French cooperative Le Gouessant (see "Companies to Watch" sidebar).
Also of note this year, three African feed firms, including two new additions from South Africa and Eygpt's Wadi Group, have made this year's ranking.On the horizon
Early forecasts predict a bumper crop year for most grain markets. Without any major hiccups, i.e. natural disaster, inclement weather or political strife, drops in commodity costs may present some interesting data in the coming editions of the Top Feed Companies report.
Editor's note: Research for this project is conducted by Peter Best and Ellen Posledni. Please direct comments and questions to topco@wattnet.net .