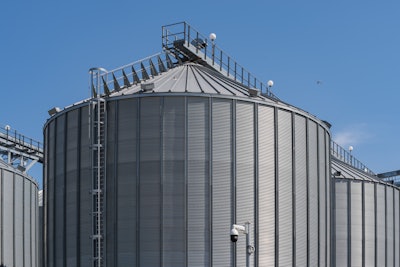 Deyanarobova | Bigstock.com
The former Perdue Agribusiness grain elevator in Lothian, Maryland, which closed in March 2021 and was purchased by Anne Arundel County in March, has reopened in time for harvest.
Anne Arundel County entered into a letter of intent (LOI) with Warfield Brothers, Glenelg, Maryland, in September to operate the grain elevator. Warfield conducted necessary repairs to get the facility operational.
"Getting this contract done to open the elevator for this fall's crop was an all-hands effort by farmers, county staff and the operators," said Steuart Pittman, county executive. "We did an emergency procurement, a plan to fund repairs, and relied on advice from farmers to make it happen. It's this kind of collaboration that will keep our farms producing for generations to come."
The county assisted with securing the required Maryland Department of the Environment (MDE) air permit and continues to work with Warfield with the goal of accepting grain through the facility in the coming weeks.
"I am grateful for the county executive's leadership and the collaboration of the farming community in ensuring that the grain elevator can open this fall and benefit farmers throughout Anne Arundel County and all of southern Maryland," said Senator Sarah Elfreth.
Perdue announced closure of grain elevator in January 2021
Perdue first announced its intent to close the grain elevator in January 2021. After speaking with local farmers who depend on the facility to purchase their crops, Pittman expressed concern publicly and spoke privately to Perdue CEO Randy Day about delaying the closure to allow time for a new owner to step in and continue operations there.
Pittman worked with Perdue to keep the elevator open for an additional two years to support local farmers, and then contracted with Perdue to purchase the elevator in March 2023 for $1.25 million.
Southern Maryland is a major part of the Delmarva's poultry industry and keeping the grain elevator open was vital to the Maryland ag community, said Pittman.
The Lothian grain elevator serves farmers in all five southern Maryland counties. Perdue AgriBusiness had operated the facility since 2002. Small operators who do not have their own storage silos depended on the facility to get their product to market.
In March, Perdue CEO Day noted while the Lothian facility has been a critical part of the southern Maryland agricultural community, there has been a significant reduction in farmland and a dramatic reduction in total harvested grain acres over the last 20 years, leading Perdue to shift its business strategy in the area.