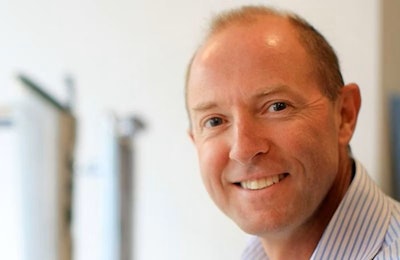 Tyson Foods
Stewart Glendinning, who resigned earlier this week as the president of Tyson Foods' Prepared Foods business, has accepted a position as CEO of fashion apparel retailer Express Inc.
Glendinning has been with Tyson Foods since 2018, when he was named chief financial officer (CFO). Nearly one year ago, Glendinning was reassigned to lead the Prepared Foods business. His employment with Tyson will end on September 15, the same day he will join Express.
In a press release, Express stated that Glendinning has a "proven record of operating excellence, financial discipline and building high-performing teams to grow iconic brands."
"The Express board is confident that Stewart is the right person to reinvigorate performance and build the strongest possible foundation on which Express can succeed," said Mylle Mangum, chairperson of the Express board. "He is a highly accomplished executive who will bring fresh thinking to the company and our strategies for profitable growth. Stewart shares the board's belief that further operating improvements and greater financial discipline are needed to ensure that Express is best positioned to deliver significant, sustainable shareholder value."
Glendinning succeeds Tim Baxter, who resigned from the company as both the CEO and a board member. Baxter will be available as needed to support a smooth transition, the company said.
"Express has an outstanding portfolio of brands, a high-potential partnership with WHP and a premier omnichannel platform. Through a keen focus on execution and cost discipline, I am confident that we can better capitalize on these differentiators, increase the company's financial strength and create shareholder value," said Glendinning. "I look forward to leveraging my experience and to working closely with the board and Express team to drive value creation for all our stakeholders."
Prior to his time with Tyson Foods, Glendinning served as president and CEO of Molson Coors International. He began his career at Molson Coors in 2005 as CFO for Molson Coors UK and subsequently held the positions of CFO for Molson Coors Brewing, president and CFO of the UK Business, and president and CEO of Molson Coors Canada.
Before joining Molson Coors in 2005, Glendinning worked with KPMG and then The Hackett Group, professional services companies where he held various senior audit and consulting roles.
Glendinning serves on the Board of Directors of The North West Company and has served with various organizations within the U.S. Naval Reserve. He earned his bachelor's degree in accounting from the College of William and Mary and a law degree from the University of Miami.
Successor at Tyson to be announced later
During the 2023 Barclays Global Consumer Staples Conference on September 7, John R. Tyson, who succeeded Glendinning as CFO of Tyson Foods, addressed a question about Glendinning's resignation.
"We wish him well in his endeavor. I think it's a great opportunity," said Tyson. "We plan to announce plans for leadership in Prepared Foods (in the near future.)"