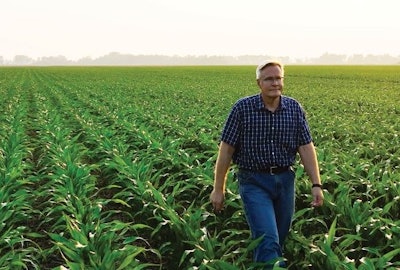 John Rust | X
John Rust, chairman of the board for Rose Acre Farms, is running for a U.S. Senate seat being vacated by Sen. Mike Braun, R-Indiana.
"It's official – I'm running for the U.S. Senate," Rust tweeted on August 22. "Now more than ever we need an outsider and strong conservative in Washington. Join me in bringing Hoosier values to the United States Senate."
Rust's campaign has launched a website, but so far the only features of that site are a video in which Rust announces his candidacy, a call to donate to the campaign, a privacy policy and a "paid for" disclaimer.
In the video, Rust explains his experience in the egg business, as well as his political views and his reasoning for seeking the Senate position.
"You've probably heard the phrase, sometimes you've got to break a few eggs to get the job done. Let me tell you from experience, it's true," Rust said in the video. "Six generations ago my family put down roots right here in Seymour, Indiana. For over 70 years, my family has been selling eggs and building Rose Acre Farms. What started as a small, humble chicken farm has grown into one of the largest egg producers in the United States. Employing thousands of Hoosiers, we've built our business centered around Indiana values: faith, family, hard work and love of country. It's through these values that my family came to experience the American dream, a dream that has defined our country and built the United States into the greatest nation on Earth."
But in the video, Rust said that American dream is under attack, saying that President "Joe Biden, the radical left and career politicians" are responsible for that attack.
He says he wants to tackle issues like high inflation, "a border crisis that is devastating small towns all across our country," and transgender ideologies that "allow men to compete in women's sports," something he opposes.
"I'm running for Senate to be that voice to disrupt the status quo, bring back an economy that benefits American workers, protect our seniors and empower parents to make decisions for their families," Rust said. "I've broken plenty of eggs building our business, and I'm willing to break plenty more when I go to Washington."
Other candidates
Braun is not seeking re-election to the Senate and is instead running for governor of Indiana.
But Rust is not the only person who wants Braun's current job. U.S. Rep. Jim Banks, R-Indiana, is also seeking the Senate seat, after having served in the U.S. House since 2017. Other Republican candidates, according to Ballotpedia, are Erik Benson and Anthony Tibby, while Democratic candidates include Marc Carmichael, Valerie Lin McCray, Keith Potts, Marshall Travis and Aleem Young. Andy Horning is running as a Libertarian, while Richard Kent is running as an independent.
According to an Indianapolis Star report, the state Republican Party has already endorsed Banks for the job, and has even questioned the legitimacy of Rust's candidacy.
State GOP Chairman Kyle Hupfer said he didn't believe that he would meet the requirements to run as a Republican, because according to Indiana law, a candidate can only run under a political party if the candidate voted as a member of that party during the two most primary election votes in Indiana. Rust, according to the report, voted as a Republican in the 2016 but as a Democrat in the 2012 primary.
Hupfer said an exception could be made if party officials are willing to sign off on a candidate, but that the GOP chair for the county where Rust resides has made known her unwillingness to sign off for him.