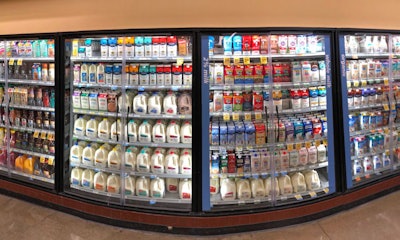 More at-home milk consumption somewhat offset declines away from home
Increased at-home milk consumption during the coronavirus (COVID-19) pandemic has helped Australia's dairy industry offset declines in other areas of the market.
This shows the flexibility of the industry, according to Tim Hunt, head of RaboResearch Food and Agribusiness for Australia and New Zealand. He recently spoke with Rabobank's senior analyst – dairy, Michael Harvey, about Australia's milk sector throughout the pandemic.
"Even if a temporary revival on fluid milk proves to be only the case through COVID, it certainly helped the industry navigate a difficult period and offset problems in other categories of the market and probably highlights one fundamental strength of dairy: That it is a multi-category product with multiple channels and products and countries that it's sold into, and its ability to flex in these difficult times has stood it in really good stead," Hunt said.
Harvey said the foodservice industry is slowly working its way toward a recovery, but out-of-home milk consumption is still down.
"When we look at the out-of-home consumption, it has been problematic, despite the benefit of in-home consumption," he said. "The out-of-home consumption channel is a big part of the drinking milk market."
The result of lower out-of-home milk consumption coupled with more in-home consumption has been flat for the industry, but Harvey said the situation could have been much worse.
He added that working from home is likely to be more common in the coming years.
"While you've still got consumers at home consuming more product, there is going to be that bit of volume going through that channel," he said.
With more consumers eating breakfast and preparing coffee at home, as well as cooking more of their own meals, the white milk sector is seeing somewhat of a "period of revival," Harvey said.
Before the pandemic, cereal consumption had been declining in developed markets, but consumers have turned to cereal – and milk – as comfort food during lockdowns.
"The lockdowns we've seen in response to COVID have been a pretty blunt object to hit the market and they've had some pretty big distortions in terms of what consumers are buying," Hunt said.
Harvey agreed: "There's some fairly structural shifts in the way consumers respond to drinking milk, and that's had an impact."
They said these shifts mean dairy brands have needed to spend less on marketing and advertising to achieve the same results, as shoppers are consuming more milk at home by default.
View our continuing coverage of the novel coronavirus (COVID-19) pandemic.