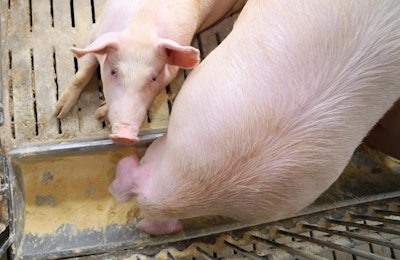 Company aims to become carbon negative by 2030 by improving pig diets, use of alternative feed ingredients, among other things
Smithfield Foods Inc. says it is committed to becoming carbon negative at all of its U.S. operations by 2030.
Becoming carbon negative means the company will go beyond being carbon neutral by removing more carbon from the atmosphere than it emits. It says it will improve the diets of its pigs, use alternative feed ingredients and source grain locally, among other measures, to achieve this goal.
"Our goal to become carbon negative in all U.S. company-owned operations by 2030 relies heavily on the idea of improved production efficiency and starts with activity on our farms," Stewart Leeth, Smithfield's vice president of regulatory affairs and chief sustainability officer, told Feed Strategy. "Through improvements in genetics, nutrition and management, we are reducing the amount of feed needed to raise our animals. … These feed conversion improvements will continue into the future and will be one of the pathways contributing to achieving our carbon negative goal."
He added that Smithfield's animal nutrition experts use innovation, research and technology to improve the efficiency of the feed it uses.
"Our finished feeds undergo thorough analyses of ingredients, nutritional content and quality," Leeth said. "Our experts also proactively work with our internal research and technology group to evaluate the impact of novel feed concepts and additives on animal performance, as well as with our procurement team and our feed mill and bakery meal operations, to ensure they are producing feed that consistently meets the nutritional needs of the animal and ecological standards."
Leftovers and byproducts from flour milling and beer and whiskey production are "a natural fit" for pig feed ingredients, and their use provides an opportunity for recycling.
"Breads, snack foods and baked goods facilities produce millions of pounds of byproducts that don't meet the stringent quality specifications for human consumption due to overbaking or packaging issues," Leeth said. "Our bakery operations use formulas created by our nutrition group to blend these materials into a single, nutrient-dense ingredient that we then use to make pig feed. Much of this material would end up in a landfill if we did not create the opportunity to repurpose the nutritional value it contains."
Better soil with less fertilizer
Smithfield is making improvements in fertilizer use and soil health and using agronomy to optimize production and reduce greenhouse gas emissions.
"We have collaborated with the Environmental Defense Fund in the United States to help farmers find ways to optimize fertilizer use and improve soil health," Leeth said. "We also provide agronomy advice and tools to help farmers in our U.S. supply chain produce the same amount of grain using less fertilizer."
In 2019, Smithfield expanded its assistance to local grain producers through a partnership with the North Carolina Agricultural Consultants Association, a network of licensed, independent agricultural crop consultants committed to agricultural stewardship and grower profitability. In exchange for affordable and independent consulting, farmers agree to market 125 bushels of corn per acre to Smithfield. At the end of 2019, more than 4,000 acres were enrolled in this program, Leeth said.
The company also uses a unique biogas platform that captures methane from hog manure and transforms it into renewable natural gas (RNG).
"Capturing methane from manure is an incredibly effective way to reduce our emissions because RNG removes more emissions from the atmosphere than are released when consumers use the gas," Leeth said. "Through our aggressive program, we are implementing RNG projects across 90% of our hog finishing spaces in North Carolina, Utah and Virginia, and nearly all in Missouri by 2028. We're also evaluating programs in additional states to further make a positive impact."
Smithfield is also implementing other measures across its production facilities and transportation and logistics, as well as participating in conservation activities.