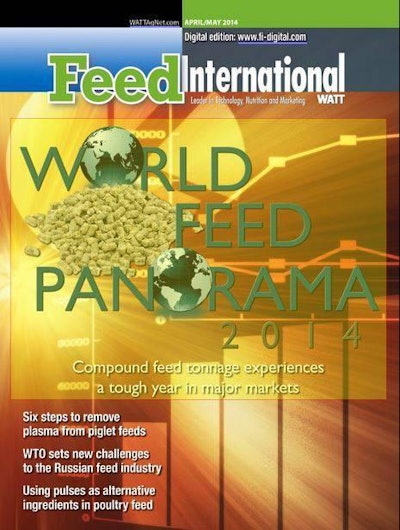 Global and regional volumes of compound feed in 2013 have reflected a difficult year for several of the biggest markets. With six out of the top 15 countries registering a drop in their annual production volume — and most of the others showing only a small expansion — the total tonnage at world level struggled to achieve significant growth.
The indication from WATT's latest World Feed Panorama survey is that approximately 825 million metric tons of compound feeds were manufactured industrially for food animals and aquaculture in 2013.
This survey refers specifically to complete diets made by the industrial-sized mills of commercial manufacturers and integrators. The 15 countries with the largest national outputs accounted for 75 percent of the world tonnage in 2013, as in 2012. Inevitably, therefore, a change affecting any of these major markets has a big impact on the global figure.
Table 1 shows our assessment of the production of compound feeds by the top 15 in 2013 and how it compared with their 2012 volume. Just taking the five countries that head the list, the combined total for the quantity they produced in 2013 was down from 2012 by more than 1 million metric tons.
Even so, there has been a small rise in the world total. In 2012, we had reported that the global market for compounds could be estimated at about 817 million metric tons. On this basis, it appears the 2013 total represented an annual increase of about 8 million tons or approximately 1 percent.
Such a rate of growth would be broadly in line with a pattern that has seen global compound feed production grow by little more than 1 percent per year since the grain market upheavals of 2008 (Figure 1). Again, in 2013, one of the biggest obstacles to feed industry expansion came from grain prices — this time, the after-effect on feed costs for meat, milk and eggs from the price surge for grains in the later part of 2012.
Grain usage trends
As producers adjusted inventory, not least in the poultry sector, both integrator mills and commercial vendors were hit by the reduced feed requirement. The first signs of a recovery did not appear until almost the end of the year, by which time the price of maize (corn) had fallen by 40 percent from 2012 to its lowest since 2010. Prices also ended 2013 about 20 percent lower for feed wheat and almost 10 percent lower for soybeans when compared with the records set in 2012. This led to rapid rethinking of grain choices in feed formulations and encouraged animal protein producers to start to rebuild.
Disease, weather affect feed production
Poultry remains the largest single sector for compound feeds — accounting for almost 49 percent of the market in 2013. The requirements for poultry feeds felt the effects of disease in 2013, when a variety of avian influenza viruses caused a reduction in flock sizes and a lower consumer demand for poultry products in several parts of the world.
A growth in the supply of dairy cow diets by compounders traced back partly to weather-related difficulties with pasture grazing in some places. It helped to increase the market share held by ruminant feeds, but pig feeds registered a drop in tonnage and now represent less than 30 percent of total world compounds production.
Feeds for aquaculture presented a mixed picture in 2013. Although a bacterial disease ravaged shrimp farming in several countries and resulted in a 20 percent fall for shrimp feed volumes, they comprise only a relatively small part of the global aquafeed market, muting the impact on total tonnage. Our survey still found signs of growth for fish-feed production, and we consider that at least 33 million metric tons of aquafeeds were made commercially around the world in 2013. In addition, more than 15 million tons were made on the farms or given as straight materials.
Growth markets
Geographically, we found that the regional all-feeds tonnage increased in 2013 by more than 2 percent in Asia-Pacific and by 1.4 percent in North America. The increases in Middle East/Africa and Europe/Russia were only 0.9 percent and 0.5 percent respectively, while Latin America's volume dropped marginally.
Table 2 shows each geographic region's contribution to the world compound feed production by species in 2013. It demonstrates how widely the distribution of tonnage by species varies. While four out of five regions are comparable for their share of the world total of poultry feeds, there is greater variation between them on feeds for pigs and ruminants and even more on aquafeeds. For example, China and the other countries of the Asia-Pacific contain three-quarters of the global market.
Looking within each region, Figure 2 illustrates the regional breakdown by feed type. It provides confirmation that poultry is the largest single type of feed in all regions, but it also demonstrates the different shares taken by pig, ruminant and aquatic types regionally.
The range of regional market shares for poultry is only from about one-third to two-thirds. Whereas for pig, it is from less than 1 percent to more than 45 percent; for ruminants, from 7 to 40 percent; and, for aquaculture feeds, from less than 3 percent to more than 78 percent.
From our survey, the compounds manufactured by integrators continue to be most often a factor in the poultry sector. But there is increasing integration in aquafeeds and a small increase in pig feeds.
Overall, forecasting reports contained a degree of optimism that production volumes in 2014 will show a healthy increase. Feeds for broilers, for milking cows and even sometimes for pigs should be in greater demand in 2014, according to the industry insiders. The big question is whether volatility will return, not only in the form of sudden price spikes for grains, but also as a consequence of a major disease that has erupted somewhere to damage both animal inventories and consumer confidence.