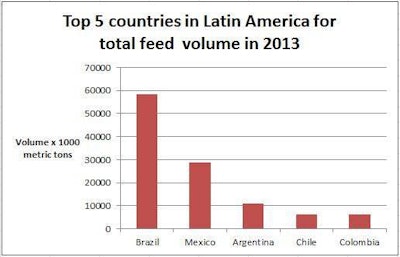 Avian influenza hit Mexico's poultry industry again in 2013, and there were fears initially of a big downturn in the national production of meat and eggs so that feed requirements would also be lower. But national chicken and egg production actually rose for 2013 despite the episodes of the highly pathogenic avian influenza virus H7N3 between January and August, on data from Mexican poultry union UNA.
The estimated annual compound feed volume for Mexico, therefore, remained at approximately 29 million metric tons — second only to Brazil's 63 million tons in the Latin American region.
Mexico provides thorough feed figures
One of the few national sources of data to measure integrator tonnage separately from the production by commercial mills is Mexico. A profile of the Mexican industry presented in 2013 on the basis of figures from national association Conafab recorded that approximately 62 percent of the feed produced nationally in 2013 came from integrations — signaling a slight decrease from the 66 percent described by the same source for Mexico in 2000.
What is more, the Conafab data indicated that the integrators in 2013 were using more of their production capacity – 84 percent against 79 percent for the mills selling feeds. Reports to our survey from other countries do not usually distinguish between integrator and commercial plants. They rarely suggest any real improvement in capacity utilization by mill operators in 2013, while making clear that extra feed manufacturing facilities are being installed for aquaculture and other specialized segments.
Brazil remains stable
In Brazil, a large part of the lack of market growth last year was attributed to adjusted poultry inventories in response to higher feed grain costs. By contrast, more demand came from Brazilian dairy herds. National Association Sindiraçoes has said a 3 percent increase in compound feed production to 64.9 million metric tons is possible for 2014.
Longer-term, Brazilian feed manufacturers point to highly positive forecasts for the amount of maize (corn) grown nationally as well as for increases in poultry and pork output. The next 10 years is expected to see Brazil's corn harvest swell by 20 percent while production volumes rise by 46 percent for poultry and by 21 percent pork.
Peruvian poultry remains strong
Peru has calculated its broiler feed requirement as exceeding 2.5 million metric tons per year due to expanded Peruvian chicken production. However, improved productivity is helping to limit the amount needed to produce some 1.4 million metric tons of poultry meat annually. A study commissioned by Peru's APA poultry association found that local producers in 2012 used an average of 1.8 kilograms of balanced feed for every kilogram of chicken, compared with a conversion ratio of 2.8:1 that applied to the country's broiler feeding 20 years ago.
Peruvian data also underline the consolidation of the poultry market in Latin American countries. The largest poultry producer in Peru is the company San Fernando, whose market share nationally is estimated at 35 percent.
Argentina, Bolivia set to grow
Argentina's poultry production could grow 58 percent by 2020, on projections from the Argentine government's ministry for industry. Local analysts say the output of poultry has already grown by 170 percent in the last 10 years. Bolivia is another Latin American country registering an expansion in poultry, with its own rate of growth in 2013 working out at 7.5 percent as chicken reinforces its position as the Bolivian consumer's favorite meat.