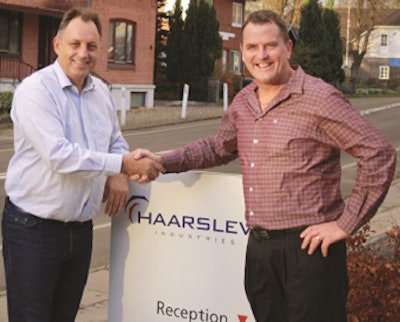 At the end of January 2014, Tissa Fernando will end his long career with Flo-Dry and Haarslev Industries. Fernando started his career at the New Zealand Meat Research Institute "MIRINZ," where he was responsible for leading major projects in the rendering area. This led to the invention of the Low Temperature Rendering Process (MLTR) and the development of the process within the processing industry. In 1983, he founded Flo-Dry, where he developed the Flo-Dry Rotary Dryer.
Fernando has also led the development of Flo-Dry's involvement into the sludge drying area being involved in the process design and trial work. He has formed a number of alliances throughout the world to promote the company's entry into the worldwide sludge drying market before merging the company into Haarslev Industries in 2011. Fernando is a well-known worldwide icon within the by-product industry, and his involvement has produced some significant developments within the meat industry in Australia and New Zealand as well as in India.
Henning Haugaard new general manager for Haarslev Industries, New Zealand
In January 2014, Henning Haugaard will relocate to New Zealand to succeed Tissa Fernando as General Manager for Haarslev Industries in New Zealand. Haugaard graduated as a mechanical engineer and started his career in Haarslev in 1988. Haugaard has worked in the rendering industry throughout his entire career including a period with the Danish rendering company Daka before he returned to Haarslev Industries in 2000, first as sales manager and from 2006 as sales director. Haugaard has played a crucial role in Haarslev Industries' success and will use his experience and great interpersonal skills to strengthen Haarslev Industries' position on the markets in Australia, New Zealand and Oceania.
"I look forward to help developing the company's market presence in Australia and New Zealand" said Haugaard. "In particular, we will focus on developing a local service and spare part distribution center".
Tony Johnson new sales manager for Haarslev Industries, Denmark
In December 2013, Tony Johnson will join the Haarslev Industries sales and management team. Johnson will take up the position as sales director in Denmark succeeding Henning Haugaard, who has held the position since 2006. Tony Johnson comes from a position as general manager of business development and marketing with Milmeq in Brisbane, Australia. Milmeq custom designs, engineers and manufactures systems for primary food processing, materials handling and chilling and freezing within the protein industry. Systems are developed, designed and delivered for primary food industries, including red meat, poultry, dairy, seafood and horticulture.
Before joining Milmeq in 2002, Johnson spent 16 years with different companies in the food and protein industry in New Zealand, Australia and China.