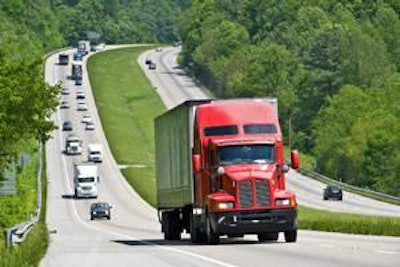 Feed mill manufacturers have grown used to worrying about whether rail cars will be available to bring feed ingredients to the mill and if trucks leaving the mill are legally loaded. Those headaches aren't likely to disappear in 2012, but mill managers may find themselves trying to sort out a new logistics problem resulting from a new federal law that – at first glance – doesn't seem to have much to do with feed.
However, there are some bright spots on the horizon. A number of states are considering increases in truck load limits, and growth in rail capabilities in parts of the U.S. should make feed transport easier for at least a portion of the industry.
Food Safety Modernization Act
President Barack Obama signed the Food Safety Modernization Act into law on January 4, 2011. One requirement of the law is that the U.S. Food and Drug Administration must publish final rules that will govern how both food and feed is transported by July 2012. This marks the first time that the FDA will be writing regulations that apply to transporters. This fact has the National Grain and Feed Association worried; not so much about the precedence as the timing.
Randy Gordon, the association's vice president for communications and government relations, said the language governing transportation is fairly simple. "Vehicles should not transport anything that could be harmful for human or animal health," he summarized.
The push behind that language dates back to 1990, when Congress passed a sanitary food transportation act to prevent vehicles carrying fruits and vegetables from backhauling garbage. The feed industry itself has expressed concern whether conveyances – trucks or rail cars – have been adequately cleaned before being loaded with feed or feed ingredients. Complying with the clean-out regulations isn't expected to be onerous, but the timing could be.
Timing issues
The problem with the timing of the regulations is that Food Safety Modernization Act will also require feed mills to adopt Hazard Identification and Preventive Controls (see sidebar). If the FDA releases the preventive controls rules first and a mill has identified transport conveyances as a potential hazard, the mill will require a clean-out procedure be followed. However, if the rules for transporters don't come out until much later, transporters may feel they are outside of the FDA's regulatory oversight and decide they have no obligation to clean their equipment just so a mill can meet their preventive control rules.
The FDA's initial work plan for implementing the Food Safety Modernization Act delayed transportation-related regulations until later in 2012 or 2013. National Grain and Feed Association and others are encouraging the FDA to make sure the regulations regarding conveyances are compatible for both manufacturers and transporters, and that the regulations come out close to the same time.
"We have a very tight rail and truck supply," Gordon said, "and a lot of demand coming from agriculture, coal and the consumer section with intermodal containers. We don't want the regulations to make us undesirable compared to non-ag customers."
This scenario could happen if the FDA issues rules that ban the use of specific conveyances that have dual use in hauling other products. Rather than banning certain conveyances, the feed industry would prefer that carriers comply with existing statutory obligations to provide equipment that is clean, appropriate and suitable for the commodity to be shipped. The carrier is in the best position to monitor the use of the fleet, know the contents of the immediate load hauled and to use appropriate clean-out procedures to foster product safety.
Gordon is hopeful that the FDA understands the potential squeeze that issuing one set of rules without the other could cause. He is encouraged that the FDA has reached out to industry groups and consumer groups before the agency even began writing the proposed rules, and is cautiously optimistic that the proposed rules will be science- and risk-based approaches that will truly matter to human and livestock health.
Proposed weight limits
A number of states are again weighing alternatives to increase the amount trucks can legally haul. Idaho is one of those states.
Todd Strayer, manager of the Scoular Company in Jerome, Idaho, calls the current system of different regulations for different roads one of the biggest issues facing Idaho's feed industry.
"A truck can leave Jerome and be legal for the county road, but be breaking the law on a city street, state highway or on the interstate," Strayer said. "Surrounding states of Utah, Nevada and Montana allow much higher gross weights than Idaho, making interstate hauls a challenge."
Many agricultural groups support raising the state's maximum truck limit from 89,000 pounds to 129,000 pounds, but also require more axles. Supporters of the plan say heavier trucks would cause less damage to the roads because the additional axles would reduce pounds per square inch on roads.
"It's a win-win," said Mark Duffin, executive director for the Idaho Sugarbeet Growers Association. "It would mean fewer trucks on the road, a smaller footprint on the road and less cost to haul beets." He points to the 169,000-pound maximum truck limit in Michigan, where trailers are essentially solid axles.
Higher weight limits are an argument that the NGFA has been making for years. Attempts in the past to set a federal maximum truck weight limit have met with opposition from highway safety groups that fear bigger trucks on the road will result in more accidents. Labor unions in some states have also opposed raising maximum truck weights.
"The stalemate has made it impossible to move forward," Gordon said.
Improved rail traffic
While truck transportation presents challenges, rail traffic seems to have improved — at least for some in the feed industry. The Union Pacific Railroad has added more engines and freight, and that's increased the velocities of shuttles and unit trains into Idaho, Strayer said.
Livestock feed makes up 32 percent of the end products Union Pacific carries. Paul Hammes, vice president and general manager for Union Pacific, said the railroad increased rates during 2003 to 2007, when the booming economy pushed the volume of freight higher and used the revenue to improve capacity.
However, that's not true for competing railroads or other destinations. Commodity brokers in California, for instance, say rail rates continue to control commodity movements. They would like to see negotiated rates come into play more, as those rates seem to have improved interstate truck movements.
Commodity groups and feed associations have tried to get rail competition bills introduced in Congress but Gordon does not anticipate an effort will be made in 2012. With this being an election year, it will be difficult to get action taken on significant bills, such as the farm bill, let alone rail competitiveness.