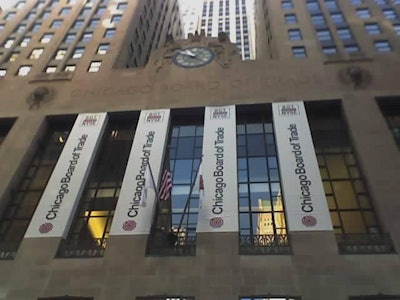 Bryan Durkin, chief operating officer for CME Group, told attendees at a meeting of the National Grain and Feed Association Monday in Chicago that the CME Group will cover a substantial amount of the missing funds from MF Global, but stopped short of saying that all monies lost would be covered by the brokerage.
Durkin indicated that he had personally been proactive in reaching out to the agribusiness community in general and to the NGFA in specific after news of the bankruptcy became public.
"This has been an industry-wide blow to the heart of commodities markets – to its producers, to its processors, and to its distributors, and that blow was dealt by the violations that were committed by MF Global," Durkin said, speaking to a packed ballroom at NGFA's annual Country Elevator Conference.
Timeline
Durkin said that the CME Group has received numerous questions about the details of the situation with MF Global. In response, he gave a timeline of events prior to the MF Global failure.
• During the week of October 24, MF Global was downgraded by several credit rating firms after announcing poor earnings. During this time CME Group was in daily contact with MF Global and received "full assurances" that the firm had sufficient liquidity.
• On October 27, two CME Group auditors went to MF Global's Chicago offices to review their daily segregation report for Wednesday of that week. That report showed "full compliance." CME Group auditors asked for the necessary materials to check the numbers and reconcile the report and they began to tie out those numbers with third parties.
• On October 28, Thursday's segregation report was delivered to the CME Group, stating that not only was MF Global in full compliance, but it had $200 million in segregated funds. When CME Group auditors left MF Global on Friday night, they had "no indication that any segregated funds were missing."
• On October 30, CME Group auditors returned to MF Global because they had learned from the Commodities Futures Trading Commission that a draft segregation report for Friday, which CME would have normally received on Monday of the following week, showed an approximate $950 million shortfall. MF Global said this was caused by an accounting error. CME Group auditors, together with the CFTC and MF Global were together for the rest of the day Sunday and throughout Sunday night to find the accounting error. No error was found.
• At approximately 2 a.m. CST, October 31, MF Global informed both the CFTC and the CME at approximately the same time that the shortfall was real, and customer segregated funds had been transferred out of segregation to the firm's broker-dealer accounts. MF Global filed for bankruptcy. As a result, their assets and customer funds held at the firm were frozen by the trustee as soon as the bankruptcy was filed.
Referencing other industry bankruptcies, Durkin remarked "What makes this case different is the shortfall and response, which is a clear and significant violation of CME rules and government regulation."
Durkin noted that in response to the situation, CME has made priority customer's funds being returned.
CME Group proactive
Within two weeks of the filing, Durkin noted that CME Group proactively offered a $250 million guarantee to the bankruptcy trustee to assist in the distribution of funds to the customers without a loss to the bankruptcy estate. A week later, CME Group increased that guarantee to $550 million. In addition to the guarantees to the trustee, Durkin said that the CME Trust is providing "virtually all" of its capital – $50 million – to cover CME Group customer losses.
"The process of returning warehouse receipts has also begun. As a result of these actions, MF Global customers, not just CME Group customers, but all MF Global customers, have already started to see substantial cash returns. And by later this week, customers should have access to two-thirds of their balances," Durkin said.
Not all funds to be covered
When asked during the question-and-answer session whether CME Group would cover the approximately one-third of unrecovered funds, Durkin responded "CME Group has a fiduciary responsibility to its customers and to its shareholders and we really feel that we cannot expose ourselves to that level of responsibility or risk. It's not covered as a part of our rules, and the clearing facilities. However, all that being said, we have taken some very unprecedented steps to move the trustee and to get the collateral released."
When asked about CME Group's dispute with the trustee regarding the amount of funds missing, Durkin replied that the dispute is based on CME Group's reconciliation of the segregation reports and the tie-in of the third party accounts, the activities, and the chronology of events leading up to October 31. "We feel very confident about the numbers we've put out there."
After the moderated question-and-answer session, Durkin immediately left the conference to return to the CME Group for a meeting.