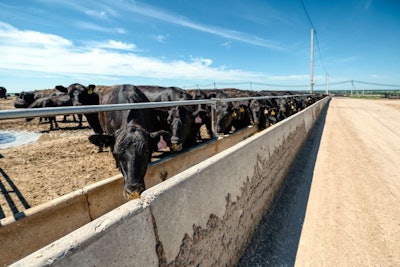 Under this scheme, which was developed in the UK, fattening beef cattle were treated like fattening pigs.
Where space is ample, labor cheap and feedstuffs even cheaper, it pays off to feed feedlot beef cattle under the least intensive production schemes (here, by intensity, I mean daily growth rate alone). A general rule of thumb was that feedlot cattle were expected to gain about 2-3 pounds per day (about 1,250 g/day) given a balanced ration that contained ample roughage to ensure they remained healthy and converted the least expensive feedstuffs with sufficient efficiency.
Fast-forward to modern times when none of the above remain true. And, it must be reminded that I am not talking just to a U.S. audience, where smaller-frame breeds abound. There are regions where space is at a high premium and the cost of maintenance (time spent in the feedlot) is excessive. Good labor is never cheap, and current feedstuff prices are making our business go extinct.
Plus, continental genetics and their crossbreeds are more widespread than in the past and they can reach more than 1,100 pounds live weight at the end of the traditional 150-day fattening stage. So, intensive, and super-intensive growth programs are in high demand and very low offer as they are risky propositions. I would call an intensive growth program anything achieving between 3 and 4 pounds gain per day (about 1,500 g/day), whereas a super-intensive program would exceed about 4 pounds (depending always on genetics) or in my books would hit the coveted 2,000 g/day. Today, I would like to discuss this super-intensive program.
For that, we will have to go back in time (or is it, back in the future) to revisit the "barley-beef program." Under this scheme, which was developed in the U.K., fattening beef cattle were treated like fattening pigs (genetics allowing). In other words, they were raised with very, very little roughage, or even with none at all. Of course, some fiber was provided by certain raw materials to ensure rumination. But, nevertheless, rumen acidosis was not always prevented. It required continuous monitoring of animal health and a good mix of certain additives to ensure acidosis was prevented. The odd affected animal was isolated and fed a high-roughage diet until it recovered.
Such a program is still possible today – and, in fact, I am working on it right now. But, again, it requires sophisticated labor, a good nutritional program, good cooperation with a knowledgeable vet, and acceptance that some animals will not be suitable for this program. Of course, we need the right genetics that can grow at such astonishing rates that will be made possible under such feeding program.
So, understanding the potential of each breed is important before going into such business, otherwise meat quality can be easily compromised.