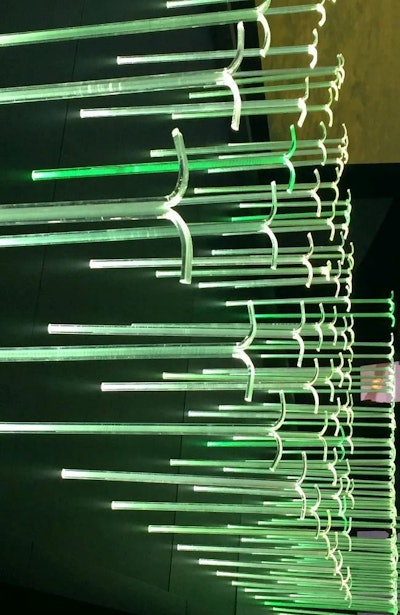 Having spent the week at Alltech's ONE Ideas Conference, it's fitting to use this blog space to report on one of the more unconventional and provocative aspects of the event.
In the heart of the Lexington Convention Center, Alltech founder Dr. Pearse Lyons created his ONE Vision "virtual planet," a 10,000-square-foot interactive multimedia exhibit exploring the role agriculture will play in shaping the world of 2050.
Alltech aimed for the event's more than 3,000 attendees "to experience a planet of plenty, where technology and science align in order to produce nutritious food for the world's nine billion inhabitants." To do so, the company erected a labyrinth of touchscreen kiosks, all-encompassing panoramic video displays, and walls covered in factoid-rich infographics.
(With so many moving parts, I think it may be best to lean on Alltech's stock photos to better illustrate the experience.)
The ONE Vision exhibit featured interactive displays, debates between video characters depicting industry stakeholders, narration from an unseen host, and scores of other multimedia presentations meant to illustrate how innovation in agriculture can change the world. | Alltech
Visitors were given a glimpse of how the world – and agriculture – can evolve and improve if we're smart about how we proceed when faced with significant hurdles and through the adoption of sustainable solutions. The stations within ONE Vision called out these problems and explored how "one big idea" could significantly change outcomes.
These eye-opening statistics* highlight the dilemmas facing agriculture's relationship to three key elements:
Water: Seventy percent of the world's fresh water is consumed by agriculture and could rise by 2.5 percent or more by 2050.
Air: Thirty-nine percent of greenhouse gas (GHG) from agriculture is linked to animal agriculture by way of enteric emissions. As GHG erodes the atmosphere, the added heat affects water levels, leading to flooding – both have a negative impact on food production.
Land: Eighty percent of arable land is already in use, but to feed the world in 2050, land yields must rise by 70 to 100 percent. Plants need to do more, but require fewer inputs.
Ninety-five percent of our food comes from the soil. ONE Vision explored the ways soil can be restored for better crop production. | Alltech
Here are the solutions offered during the tour:
Water: Utilize precision agriculture to reduce irrigation water use.
Air: Better livestock feed management to decrease the amount of methane emissions.
Land: Develop drought and disease resistance crop strains that will limit or eliminate the use of soil-microbe-damaging pesticides. Large-scale, vertical urban farming.
The impressive display successfully modeled the interconnections between natural resources, the wide-reaching ripple effect of one set of actions – positive or negative, and how even small changes can impact the world now and into the future – especially at the producer level. For example, short-term farming practices now can improve productivity and profitability, but also lay the foundation for long-term sustainable production.
ONE attendees get a glimpse into the future of sustainable aquaculture during the ONE Vision tour. | Alltech
Ever the optimist, Dr. Lyons believes the science and technology will in fact fill the gaps and make feeding 9 million possible while restoring and preserving the world's natural resources.
Given the size of the ONE Vision investment, I was surprised that its fate moving forward seemed unclear. The exhibition is structured to have appeal beyond agribusiness folks. Will it travel outside of Kentucky to educate and inspire a broader audience? I guess time will tell.
Needless to say, you walk away better understanding how "ONE big idea" can change the world.
*All statistics gleaned from ONE Vision's infographics