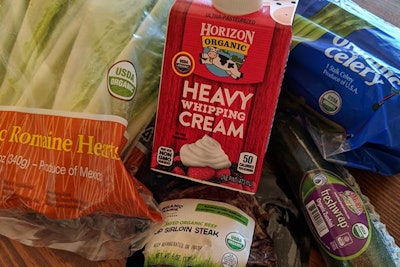 Johanna Mirenda, farm policy director with the Organic Trade Association, presented updates from her association and the Farmers Advisory Council at the Organic Egg Farmers of America's Organic Egg Symposium in Minneapolis, Minnesota, on March 12, during the Midwest Poultry Federation Convention.
She explained that the newly approved farm bill will be huge for organic production. It authorizes US$24 million of funding for the National Organic Program (NOP) per year. It also includes US$5 million for NOP to invest in technology systems.
She was unsure how much of that money would be used in the area of organic poultry production.
Mirenda explained that it also, "requires electronic organic import certificates and establishes a USDA tracking system for these documents." It also requires the USDA to issue ultimate rules within a year to limit the operations excluded from certification.
She noted that this farm bill includes a historic investment in organic research. Funding is set to reach US$50 million per year by 2023.
The National Organic Standards Board practices are protected under this bill.
NOP rulemaking to prevent fraud
The NOP has plans of releasing a "historic" proposed rule in the spring. "This may be the largest piece of rulemaking the program has ever seen. The proposed rule will cover ten major topic areas related to increased oversight. Plus, enforcement, in all response to the incident of organic fraud," she said in her presentation.
She further explained NOP rulemaking would include increased reporting to the organic integrity database, Updated regulatory requirements for equivalency arrangements, unannounced inspections and many others.
Best practices for organic production
The Organic Trade Association has finished a draft of a best practice guide and submitted it to the National Organic Standards Board. Feedback provided from that board will be used with the intentions of increasing the integrity of the global organic control system, she explained.
There is also a organic fraud prevention guide that is intended to provide businesses with a process for developing and implementing fraud mitigation measures.