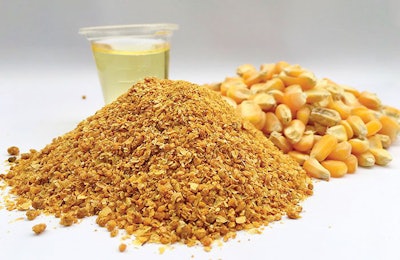 The webinar, "Formulating DDGS into monogastric diets to maximize profits," sponsored by Dakota Gold by POET Nutrition and presented by WATT Global Media, discussed how the improved efficiencies by ethanol producers have changed the nutritional characteristics of dried distiller's grains with solubles (DDGS).
Dr. Hans H. Stein of the University of Illinois and Dr. Bill Dozier of Auburn University presented research on DDGS during the webinar. Here are 10 key takeaways from their presentations:
There are three types of DDGS available: conventional (>9% oil), low-oil (5-9%), and de-oiled (<5%).
Lowering oil lowers metabolizable energy in DDGS.
In some instances, reducing oil in DDGS will reduce digestibility of amino acids.
The quality of the DDGS we have today is a little greater compared with what we had in the past in terms of amino acid digestibility.
Increase in lysine concentration in today's DDGS is due to less destruction of lysine during drying process in newer samples of DDGS. In samples from 2004-05, concentration of lysine was 0.78 percent; in samples from 2009-12, concentration of lysine was 0.93 percent in samples from 2015-16, concentration of lysine was 0.99 percent.
Lysine as a percentage of crude protein in 2007 was >2.8 percent, but in 2016 was >3.4 percent.
DDGS inclusion can lead to poor pellet quality in commercial mills.
Less than $1 per ton savings in diet cost may be the threshold for determining the inclusion of DDGS in broiler diets.
Ingredient prices will often determine the threshold for determining DDGS usage.
Ingredient price, nutrient variability, feed milling characteristics are key factors in utilizing DDGS in poultry diets.