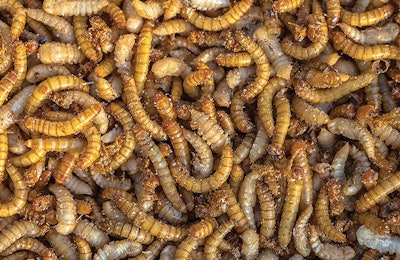 Replacing half of the soybean meal in broiler diets with alternative protein sources had no adverse impacts on chicken meat quality, according to a new study at the University of Göttingen in Germany.
The pilot-scale study, published in the journal Foods, reveals that there were no quality issues with meat from chickens fed diets in which part of the soybean meal was replaced with alternative protein sources, reported lead author, Daniel Mörlein and co-authors at the Department of Animal Sciences.
For the experiment, spirulina (Arthrospira platensis) microalga or a meal of defatted black solider fly (Hermetia illucens) larvae were included in the feed in order to replace 50 percent of the soy protein during the starter and grower phases of broiler production.
The test and control diets—balanced for amino acids—were fed ad lib to male broilers from day-old to 35 days of age, when they were slaughtered. The researchers monitored a range of standard slaughterhouse parameters, as well as studying the effects on the physical and sensory quality of the meat after three- and seven-day storage under highly oxygenated modified atmosphere packaging (HiOx MAP).
No significant differences in any of the parameters measured were detected between the meats from birds fed the insect protein and the soy-based control. The only observation noted was a more intense flavor for the fly meal-fed birds, but this difference declined over storage time.
The meat from the chickens fed the algal protein was a darker, red-yellow color than for those fed the control diet.
Overall, Mörlein and his co-authors concluded that the algal and insect meals have the potential to replace soybean meal in diets for broilers without adversely impacting the quality of the meat.
Rising global demand for animal proteins has led to concerns over the future sustainability of the cultivation of and world market trade in traditional oilseed proteins such as soybean meal in feeds for poultry and pigs. These concerns have supported the search for alternative protein sources that can be produced in a more sustainable way, such as insect meals, and byproduct materials.
As with any novel feed ingredient, alternative proteins are subject to regulatory approval before they can be fed to livestock, with particular regard to the quality and safety for both animals and consumers. In the last month, Enterra Feed Corp. has received approval for its insect-based feed products in the U.S., Canada, and European Union.