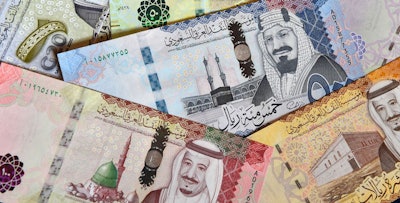 The kingdom is putting in place carefully planned and ambitious plans to expand its aquaculture sector by 2030.
A key aim of Saudi Arabia's Vision 2030 is diversification of the economy, and the further development of fishing and aquaculture sectors have been selected as important elements of this vision.
The first step was the establishment of the National Fisheries Development Program, according to Arab News. It was set up to increase the nation's seafood industry, improve food security and expand exports.
To achieve these aims, the program is planning to attract at least US$4 billion from local and foreign investors, said its CEO, Ali Al-Shaikhi.
Based on examination of aquaculture in other countries, Saudi Arabia has the potential to produce more than 1 million metric tons of seafood. At 11 kilograms, annual per capita consumption of these products in the kingdom is less than half of the global average.
Over recent years, the program has carried out research to identify the species with the best potential for aquaculture in region, and the most promising production methods. Al-Shaikhi reports that fish hatcheries and aquafeed production facilities are already in place. Recently, the first academic institution in Saudi Arabia has been set up to train the 3,000 technicians who will work in the expanding aquaculture sector.
Figures presented in the article put Saudi Arabia's target volumes for the aquaculture at 450,000 metric tons (mt) of marine fish, 70,000 mt of freshwater fish, and 80,000 mt shrimp. These are the 2030 targets, and compare with approximately 30,000 mt or less in each category in 2020.
The country's leading fish exports are stated as shrimp and prawns (US$263 million), carp (US$9.1 million), and mackerel (US$6.3 million).
In comparison to fairly steady volumes from capture fisheries (50,000-70,000 mt per year) since 1990, aquaculture output began to expand after 2010. By 2020, the report indicates, farmed output almost matched that from fishing.
Ambitions of two leading aquaculture companies
Two leading players in Saudi aquaculture are identified in the Arab News report: a cooperation between NEOM and the Tabuk Fish Co., and Naqua. Both are centered on the Red Sea.
A new fish farm is planned by agreement between the two partners, NEOM and Tabuk. With a capacity of 70 million fingerlings, this would be the largest producer in the Middle East and North Africa.
Located further south along the coast at Al Lith is Naqua.
Previously, Arab News reported that this company has a production target of 250,000 mt of fish by 2030. This will be covered by farming and fishing. The firm produces 60,000 mt — mainly shrimp and barramundi — and it exports to more than 30 other countries.
Looking ahead, Naqua is exploring the potential of other species such as tilapia.
According to company executive Khalid Al-Ballaa, one of the factors holding back the rate of expansion is the time taken by fish to reach market weight. Compared with a broiler growing period of 6 weeks, barramundi take 18 months, he said.
Founded in 1982, Naqua has grown to become one of the largest aquaculture companies of its type in the world, according to the firm's website. With total investment to date of SAR4 billion (US$1.06 billion), Naqua has developed large fully integrated marine farms approximately 180 kilometers south of Jeddah. This source puts its annual production at 100,000 mt in shrimp, fish and sea cucumbers.
Recent expansion in Saudi Arabian aquaculture
Latest information from the United Nations' Food and Agriculture Organization (FAO) forecasts Saudi Arabian aquaculture production to be 75,400 mt. This was the figure for 2019 in the 2021 edition of the FAO Yearbook of Fishery and Aquaculture Statistics. Value of this output was put at more than US$582 million.
Over the previous decade, the volume produced expanded threefold from 26,374 mt in 2010. Meanwhile, the value had more than doubled from US$273.6 million.
From the most recent FAO figures, the nation's main farmed species are the whiteleg shrimp (Penaeus vannamei), with forecast production of 60,800 mt. Leading fish species were the Nile tilapia (Oreochromis niloticus) at 8,700 mt, Asian sea bass or barramundi (Lates calcarifer; 4,100 mt), and gilt head sea bream (Sparus aurata; 1,000 mt).